Saakashvili speaks out against Kavkaz 2012 at OSCE summit
By Ernest Petrosyan
Monday, May 14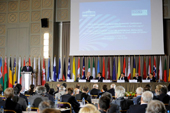 President Mikheil Saakashvili said that the upcoming parliamentary elections scheduled for October have "a huge security dimension", implying that Russia has deliberately planned its Kavkaz 2012 military exercise to coincide with the vote in Georgia.
"We're having elections now, in October. It's very important, on the one hand, for Georgian credentials, but it also has a huge security dimension," he told an OSCE Parliamentary Assembly conference in Batumi on May 12.
"It has security dimensions to it because in parallel to our elections our northern neighbour has called for a large training of their troops... They moved it one month later, or two months later; they would usually do it in summer. Politically it makes no sense," Saakashvili said.
He noted that the training will include the Collective Security Treaty Organization, which unites Armenia, Belarus, Kazakhstan, Kyrgyzstan, Tajikistan, and Russia in military alliance. "That's why we need genuine [election observer] organizations," Saakashvili affirmed. "That's why we need genuine pro-democracy parliamentarians, genuine observers, genuine transparency, starting from today, not just on the day of the elections".
In his remarks to 200 delegates from 40 countries in attendance at conference, the President also protested that Russia "does not recognize our borders, wants our government out, they want to depose us".
Saakashvili also held a meeting with the OSCE Parliamentary Assembly President Petros Efthymiou, to discuss the monitoring of election preparations. Efthymiou also participated in a joint press conference with the Speaker of Georgia's Parliament, Davit Bakradze.
Efthymiou confirmed the organization's support for Georgia's territorial integrity and said "the OSCE mission on Georgia's territory should be re-established".
Russian delegates also commented on the issue of the breakaway regions and Russia's role in the conflict. Andrei Ilarionov, former adviser to Russian President Vladimir Putin, slammed that country's policy saying, "The program of the Russian authorities to change the political regime in Georgia is still in force". He noted that provocations against Georgia may intensify now that Putin is again President.
All the topics discussed at the Batumi summit will be summed up in a resolution which will be adopted by the OSCE at a Monaco summit planned for July.
The OSCE Parliamentary Assembly Economic Conference is Batumi will conclude on May 14.
More than 100 parliamentarians and nearly 250 participants attended the Fostering Economic Co-operation and Stability in the OSCE Region summit meeting. At the opening of the conference, Efthymiou called for a new Marshall Plan for growth, recovery and social cohesion in Europe.