Five people killed in Tbilisi flooding
By Salome Modebadze
Monday, May 14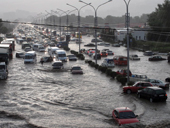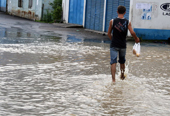 Five people, including two children, have died in the flooding in Ortachala on May 12. Heavy rain and hail caused serious flooding in several districts of the capital, Tbilisi.
Gigi Ugulava, the Mayor of Tbilisi, expressed his condolences to their families. Ugulava said the Mayor's Office is studying the cause of death. The buildings in which the casualties occurred were "illegal car garages" used as apartments, which made it difficult for the victims to escape the floodwaters, he said.
Water entered the ground floors and basements of houses in Krtsanisi; the muddy torrent damaged dozens of cars. Electricity and water provision were limited during the night. The Telasi press service explained that heavy rain had damaged electricity transmitters but promised to restore the situation on Sunday.
Roads in Tbilisi were cleared during the day but transportation was still restricted. Emergency and fire brigades worked through the night Saturday to evacuate residents from the damaged districts.
Mamuka Katsarava, Head of the Social Service Agency of Tbilisi City Hall, said 30 people were given ambulance assistance after the flood. Promising to do their best to assist affected citizens, Katsarava said the Mayor's Office is now estimating damage costs to assist people with City Council.
The flooding also affected government offices in Ortachala. Visiting a Ministry of Corrections and Legal Affairs facility with Mayor Ugulava, Minister Khatuna Kalmakhelidze said no one was injured but some infrastructure was damaged. "There is total order at the penitentiary facility... everything's under control," she affirmed.
Heavy rain also affected Mtskheta-Mtianeti and Kakheti. As Givi Amirkhanashvili, Deputy Head of the Mtskheta-Mtianeti region said, fruit and vegetable gardens were the main targets of the natural disaster but the extent of the damage will only be known later. Hundreds of houses in the Lagodekhi and Akmeta districts of Kakheti were flooded, and farmland and domestic animals were washed away in several villages.
According to weather forecasters, rain will continue across the country this week, with temperatures increasing after May 16.