Voter list commission already seeing results
By Gvantsa Gabekhadze
Monday, May 14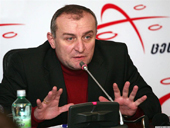 The Commission for Ensuring Voter List Accuracy has released an initial report of their investigation. The data of 100,000 Tbilisi residents has been checked, according to head of the Commission and New Rights representative, Mamuka Katsitadze.
"Currently, we cannot be proud with that [little] information, however it is an ongoing process. We have no information from villages... but in [soon] we will get information on 200 000 voters in western Georgia," Katsitadze said at a May 11 briefing.
He outlined the achievements of the Commission thus far. "Nearly 300 dead souls have been removed from the list, more than 4,000 applications have been filled out for citizens abroad. Government structures did not have such information [previously]."
Katsitadze also noted that regular briefings will be held on across the country. The Commission will publish the verified list on its official website and voters can check their personal data online and through a hotline.
In spite of the Commission's multi-party representation, some opposition members have pledged to conduct their own voter list investigations - such as Georgian Dream and the Voters League movement.
The Voters League also intends to install video cameras at election halls, alongside those of the Central Election Commission. League representative Goga Khaindrava did not disclose how the project would be financed.
Chair of the Parliamentary Legal Affairs Committee Pavle Kublashvili said that a process in which the government, opposition parties and NGOs are all checking the list will definitely have a positive outcome for voters.
The International Society for Fair Elections and Democracy is monitoring the actions of Commission. Representative Tamar Bartaia told
The Messenger
they have already observed the register selection process and 351 training sessions. Next, the organization will observe the process itself. "First, our representatives will follow the registers, then we will check the [households and ask] whether the registers really were there or not," she said.
Bartaia believes that the process itself is useful and can ensure an accurate election list. "It is very important that a methodology is used during the door-to-door checking process. We also attended the process of creating the methodology of the Commission, made our recommendations, and think that the methodology is quite realistic. I cannot say at the moment how well it will work, as this will be revealed directly during the process [itself]".
The Commission consists of 21 members: seven from those opposition parties which signed a memorandum with the government regarding the election code, seven from the United National Movement, and seven from different NGOs active in Georgia.