Saakashvili emphasizes role of technology in Georgian development
By Salome Modebadze
Monday, May 14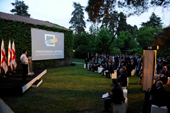 President Mikheil Saakashvili has suggested the merger of modern technologies into the practice of governance. As he said at the Society for Spreading Computer Literacy on May 10, Georgian citizens should have the opportunity to speak to any minister in 3D with a single click. The President explained that technology would ensure regular contact between government and citizen, and promote Georgia's efficiency.
Emphasizing the importance of computer literacy in Georgia, President Saakashvili welcomed the projects currently being carried out by the government. "We are the only country in the post-Soviet space where Intel has opened a factory and [built] the patented Police Pads," he said, explaining how much money can be saved by wisely using technology. "We should do our best to give new opportunities and possibilities to the public in order to enter the world market," Saakashvili affirmed.
Praising the aims of the Society and the digitization of the country, the President nonetheless stressed that computers alone are not enough - Georgians must know English, too. "Power is in unity," he said, referring to the slogan on the Georgian national emblem.
Confident that the "old mentality" would never return, Saaskashvili affirmed that everyone is equal in Georgia despite his or her origin. Although many people still face poverty in Georgia, the situation has been improved since 2003 "when people were really hungry". He also promised that 80% of villages will have access to the internet, while Tbilisi and Batumi would be equipped with Wi-Fi systems.
In addition, at least 90% of schoolchildren will have personal computers under the Modernization Plan of 2015. "We need every citizen's support to successfully carry out this project," Saakashvili said, adding that as an ordinary Georgian citizen he would personally join the Society for Spreading Computer Literacy and help deepen the country's technological knowledge.
The project, initiated by the government, aims to open 300 centres for computer courses, where local residents will be able to acquire computer skills and use the internet for educational purposes.