EU citizenship bill amended
By Gvantsa Gabekhadze
Wednesday, May 16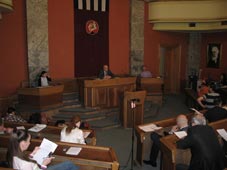 The draft law that would allow certain EU nationals the right to participate in Georgian elections was discussed at its second hearing, albeit with a modification.
The constitutional amendment now reads that a person born in Georgia, over the age of 21, having lived in the country for the last five years, and holding citizenship from an EU member state, is entitled to both passive and active electoral rights – until January 1, 2014.
"It is not an ordinary situation, when one political subject tries to raise his rating with claims as if he is disabled to do something. That is why we are making a special [exception] and after adopting the law there will be no questions concerning... the illegitimacy of the elections," Chair of the Parliamentary Legal Committee Pavle Kublashvili said, referring to Georgian Dream leader Bidzina Ivanishvili.
For the initiators of the changes – the Christian-Democratic Movement – this most recent modification of the draft was "less acceptable". Party representative Nika Laliahvili stated that the law is now too narrow and bars many Georgians who hold EU citizenship from participating.
Kublashvili responded that in such cases, individuals may appeal directly to the government and potentially be granted Georgian citizenship, and "the door will not be closed for anyone".
Christian Democrat MP Levan Vepkhvadze was interested in what will happen after the amendment expires in 2014; namely, what will happen if an individual loses their EU citizenship, will it also strip their rights in Georgia? Kublashvili responded that if an individual does not have Georgian citizenship or EU citizenship, they will lose their electoral rights.
Further changes are still possible to the legislation. The Christian Democrats have also initiated a line that forbids high-level posts – like President, Prime Minister, or Speaker of Parliament – from being held by foreign citizens.
The government has affirmed that if an individual is permitted to participate in Presidential elections, then they are eligible to become President. As for the other two posts, the administration "is going to discuss the issue and make changes if there is such a wish and concrete suggestions," Kublashvili said.
Georgian Trope MP Jondi Baghaturia is certain that the constitutional changes "will forever be a black spot in the history of Georgian parliamentary life," and believes that changing the Constitution in favour of or against one person is "illegal, especially when there are serious procedural violations".
The Georgian Dream coalition has said that by supporting this legislation, the government is attempting to paper over the President's decision to seize Ivanishvili's citizenship, rather than admit it was wrong.