Swedish delegation in Georgia to discuss foreign policy
Thursday, May 17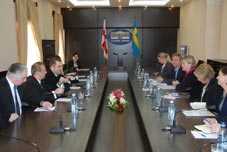 Representatives from Sweden's Moderate Party, currently in government, are visiting Georgia. The politicians, all from that country's Foreign Affairs Committee, are interested in Georgia's foreign policy goals, its difficult diplomatic situation, and the upcoming elections.
During a meeting with Davit Darchiashvili, Chair of the Committee on European Integration, and Akaki Minashvil, Chair of the Foreign Relations Committee, particular attention was paid to EU-Georgia relations, including acceleration of free trade negotiations.
"They were particularly interested in our vision, what Sweden can do additionally in order to activate Georgia-EU relations. The point is that the Eastern Partnership is one of Sweden's most important foreign policy initiatives," Darchiashvili said after the meeting.
"We discussed the future elections," Minashvili noted. "The government wants to invite many election observers and we invited our Swedish colleagues to participate in this process as well". According to him, Sweden is a country that has always actively supported Georgia.
Konstantine Kavtaradze, the Ambassador of Georgia to Sweden was also in attendance.