Tbilisi devotes 3M GEL to flood relief fund
By Salome Modebadze
Thursday, May 17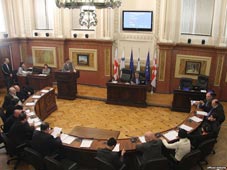 Three million GEL has been transferred to the reserve fund of the Tbilisi Mayor's Office to assist those families affected by Saturday's flooding. As members of city council explained on May 16, this money will be cut from the New Life of Old Tbilisi rehabilitation project. The new amendment to the capital's budget became the subject of debates at Wednesday's session.
Republican Party member Tina Khidasheli demanded copies of documentation of how this money would be used. As Khidasheli said, she had asked her colleagues, in vain, to present the material the day before. "Shouldn't we know what we are adding [to the reserve fund] and on what activities [the money] will be spent?" she asked.
Stressing that government officials should have made relevant preparation against the recent rain, Khidasheli doubted the efficacy of tenders the Mayor's Office had announced for the water drainage system in previous years.
Calling it a "force major" situation, United National Movement members explained that it is not time to talk about documentation when hundreds of families are waiting for their help and when even one hour can be decisive.
Although the final financial tally of damage from last Saturday's rain has yet to be determined, council estimates that it may exceed three million lari. Finance-Budget Commission Chair Tamaz Shoshiashvili said the council has a complete list of approximately 400 families affected by the flood, and promised that each family will receive corresponding aid.
Christian-Democratic Movement member Zaza Gabunia suggested giving financial compensation to the families together with everyday goods. Gabunia also stressed the need for prevention mechanisms against natural disasters so that people could feel completely safe in their homes.
Five people, including two children, died in flooding on May 12. According to the Mayor's Office, several "illegally built" houses at Gulua Street in Ortachala - which were hardest hit - will be destroyed. Emphasizing the danger of illegal construction, the Mayor's Office explained that the houses built near the water collector in the 1990s violate safety standards. Emphasizing that such buildings endanger the lives and health of people, the city noted that their owners were eager to cooperate.