It Concerns You proposes election coverage reforms
By Ernest Petrosyan
Friday, May 18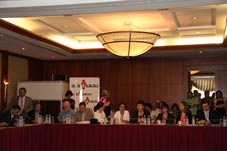 The It Concerns You movement, made up of civil society and media representatives, has unveiled a second package of legislative proposals designed to improve the election environment in Georgia.
The organizations participating in the campaign believe that the proposals will improve procedures on elections day, provide media equality for candidates and issues, and allow an unimpeded broadcast via cable channels, thereby improving the media environment.
The legislative proposal aims to improve the vote-counting procedure; namely, checking the number of voters before opening ballot boxes.
Another proposal dictates the use of administrative resources, on which restrictions will be set from June 1.
The package includes amendments for the provision of media equality for political parties, which includes free-of-charge political advertisements and excludes hidden political advertising. It also provides for debates and more diverse elections news. The initiative also refers to equal access for outdoor advertising.
Another issue raised by the proposals is the creation of more sophisticated election procedures and the introduction of more guarantees to avoid manipulation of election results.
Nino Lomjaria, head of the International Society for Fair Elections and Democracy, said that the new rules should be in place at least five months prior to the elections in order to create an equal environment for all parties.
Keti Khutsishvili, head of the Open Society Georgia Foundation, hopes that Parliament will consider the group's proposal. "I hope the proposal will be comprehensively considered in Parliament, and will have the same support from the public and international organizations , as did [our proposal] concerning the Law on Political Unions and amendments related to the criminal code," she said.
David Usupashvili, leader of the Republican Party, said that the initiative may create a well- balanced campaign environment, but he remains somewhat skeptical about its larger effect. "The proposals are very well-considered. [but] even if the proposal is implemented, it will not fundamentally resolve the election code problems. However, it will be a significant progress in various directions," Usupashvili said.
After the meeting, It Concerns You representatives signed a special appeal to Speaker of Parliament Davit Bakradze, in which they ask him to urgently consider their proposals and legislate them into action.