Rallies planned in support of Davit Gareji monastery
By Gvantsa Gabekhadze
Friday, May 18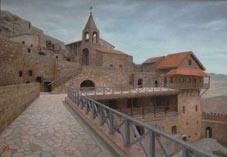 The Davit Gareji monastery conflict is still raging in Georgia, touching not only on Georgian-Azeri relations but also the transparency and responsiveness of the current government. Two large-scale protests have been planned in response, incorporating both the public at large and the Georgian Orthodox Church.
The initiative group Protect Davit Gareji released a statement announcing a May 20 protest in order to express the Georgian public's feelings towards Azeri border guards disrupting worshippers and tourists at the Udabno monastery, as well as their disappointment with the government's "inadequate and irresponsible" response.
"We demand," the statement read, "The Georgian government disclose all documents signed in the negotiation process with Azerbaijan and make transparent the border demarcation process with the neighbouring state [until May 31]. Additionally, we demand the authorities make a clear statement if Azerbaijan expresses any pretension on Udabno Monastery".
The Kakheti information centre has also released a statement, from the head of the Davit Gareji monastery complex, Father Ilarioni. He says that on May 21 at noon, priests and other religious figures will gather at the monastery for a rally. "We will go up to Udabno Monastery and hold a service there. Public representatives will be with us until the area [at which] they are not permitted by the border guards," he said.
As the head of the Ministry of Internal Affairs analytic department, Shota Utiashvili, admits, restrictions on visitors to Udabno is being undertaken by Georgian border guards as well, to prevent Azeri guards from making arrests. He noted that the monastery's baths are damaged and for security reasons has been closed to lay persons for some time.
Deputy Foreign Minister Nino Klandadze has reiterated that the border demarcation process is complicated and that negotiations are ongoing with Azerbaijan, but that the Georgian government is dedicated to the country's best interests.
The Patriarchate has been quite critical about the government's involvement in the dispute, asserting that the Georgian leadership has made "hasty statements", endangering important Georgian cultural, historical, and religious possessions.
Former President of Georgia Eduard Shevardnadze has also commented on the controversy. He said that during his presidency the border was also an issue, but one which was dealt with by an interstate commission, not at a higher level. "In 2003 I resigned, and I have no information how the process proceeded. The process should be concluded as its postponement is absolutely unacceptable," he remarked.
The former Ambassador of Azerbaijan to Iran, Vapa Galuzade, told IPN that the "misunderstanding" which has arisen concerning the monastery complex might be due to some foreign forces - meaning Russia. "I do not exclude that the enemy of the state may have influence on Azeri law enforcement structures. I do not think [Azeri President] Ilkham Aliev is aware of the issue," he said, stressing that both sides should do their best to maintain their friendly relations and not let an "enemy" cause a rift between them.