Saakashvili praises Georgia-NATO relationship in run-up to Chicago
By Salome Modebadze
Friday, May 18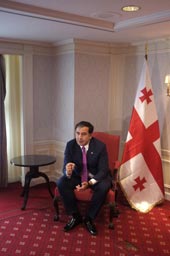 On Wednesday, President Mikheil Saakashvili spoke of the importance of the upcoming NATO summit in Chicago on the first day of his US visit. Although the summit, which is due to be held May 20-21, will not address enlargement of the alliance, Saakashvili explained that it will be significant to emphasize Georgia's progress on the path to integration.
"On the one hand it causes great resistance to the occupier of Georgian territories, while on the other hand, Russian-financed Georgian political [parties] run to Brussels and other cities not only to hinder the progress of our country, but to worsen it," the President said.
Recalling recent comments by NATO Secretary General Anders Fogh Rasmussen about Georgia's progress, Saakashvili called for great patience.
As Rasmussen said, the progress Georgia has achieved in recent years will be acknowledged in a declaration at the summit. "We will also acknowledge Georgia's contributions in a very visible way," he noted.
Calling it one of the most important guarantees for Georgia's security, Saakashvili stressed that the process of integration into NATO is a serious deterrent for any aggressive plan against Georgia. "The fact that we participate in all the activities within the summit already means a lot," he said, emphasizing that Georgia would represent Eastern Europe.
As Rasmussen said earlier, Georgia will participate in the ISAF meeting on Afghanistan; in a special-partnership event with the 13 nations that contribute to NATO operations; and in a foreign minister-level meeting of aspirant countries.
Saakashvili also praised the Georgian soldiers fighting in Afghanistan, linking their struggle to the security of their homeland, "so that no one could ever repeat the scenario of 2008 in Georgia".
For the 25th NATO summit, US President Barak Obama's hometown of Chicago, Illinois will host hundreds of visitors. More than 60 heads of state and government leaders will meet to discuss security and stability in the Euro-Atlantic area. They will deliberate on decisions taken at the Lisbon Summit in November 2010, driving forward key Alliance policies and reaffirming the transatlantic link.
Georgia is among the four states described by NATO as "aspirant" countries, together with Bosnia and Herzegovina, Macedonia, and Montenegro.
Political analyst Zurab Abashidze said he could not have even imagined Georgia's collaboration with the North-Atlantic alliance 25 years ago, but "25 years is nothing for history". Welcoming Georgia's progress, he disapproved of the fact that no enlargement is being considered this year. "How many steps do we have left [to receive NATO membership] – 5 or 5 000?" he asked, fingering Russia's influence on European decision-making.
Although Russia does not have the power to veto Georgia's integration, Abashidze said it still holds an influential position. Albania was not democratic when it received NATO membership, he asserted - but it did not have Russia's shadow behind it, either.