US government to bolster democratic processes in Georgia with civic centres
By Ernest Petrosyan
Friday, May 18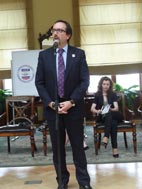 On May 17, US Ambassador to Georgia John Bass presented a USAID-funded project "Centers for Civic Engagement" at the National Library in Tbilisi.
The intended outcome of the project is a strengthened, more transparent campaign environment, as well as freer and fairer elections. "The US has always supported the Georgian people during important electoral cycles in order to get specific outcomes," Bass remarked. "We are still oriented on these objectives. Opening of civic engagement centres is serving exactly this purpose".
Within the CCE project, 9 centers( one more to be opened soon) have opened in cities through Georgia, offering space for "democratic dialogue"; in other words, a place where issues of public concern can be openly discussed. The US government invested $5 million USD in the three-year initiative, which aimed to foster dialogue, to encourage civic engagement, and to improve transparency.
Centres are opened in Akhaltsikhe, Batumi, Gori, Kutaisi, Marneuli, Ozurgeti, Rustavi, Telavi and Zugdidi. Each centre offers free conference space for 70 people, and is equipped with audio-visual equipment, a resource library, and free computer lab and internet connection. Professional staff will facilitate issue-based events and town hall-style meetings, including those with politicians and candidates.
The centres will also serve to diversify the political involvement and improve the connectivity of rural residents.