Georgian energy sector conference targets young students
By Ernest Petrosyan
Monday, May 21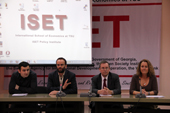 The International School of Economics at Tbilisi State University (ISET) and the USAID-funded Hydropower Investment Promotion Project (HIPP) conducted a joint conference discussing energy sector development on May 18. The conference was attended by the people actively involved in the development of the Georgian energy sector- namely young students, who prepared presentation on Georgia's hydropower potential, investment opportunities and energy export perspectives.
The conference aimed to strengthen and promote young specialists. According to Michael James Delphia, the Chief of Party for the USAID Hydropower Investment Promotion Project, the hydro energy sector will need about 450 – 500 qualified specialists by the year 2015, as the sector is growing rapidly. "We need a whole bunch of new jobs, and new positions. We need energy auditors for example, and we need electricity traders. This is something we do not see here; somebody who knows the energy sector and has the ability to negotiate," said Delphia in this remarks.
"USAID is very proud to have been involved in supporting the development of these young energy professionals who have since graduation, entered very important fields to support Georgian energy security. We really look forward to seeing how successful these young people are in the future, especially in the field of hydropower energy," said Jill Kelley, Director of the Energy and Environment Office at USAID.
"ISET was established in 2006. So far we have 100 graduates, out of whom 20 are energy economists. That comes to 20%, which is a very high [number]," said the President of ISET Eric Livny.
The Georgian hydro-energy sector now has 15 HPPs under construction and 5 scheduled to start in the years 2012 and 2013. As a result of $4 billion of investment in the hydropower field, Georgia's energy generation will increase up to nearly 3,000 thousand MW, which will make Georgia fully energy self-sufficient. This increased energy output will also help fill the import gaps it is having in wintertime, and it will export 80-90% of the additionally generated energy to Turkey, and the Russian Federation. This will also result in the decrease of imported natural gas consumption for thermal power plants, which will in turn, slightly improve the situation in country's trade balance.
The HIPP is a three-year, $8.9 million project that conducts pre-feasibility studies. This project also attracts foreign engineers to hydropower plants construction, as well as contributes significantly to the attractiveness of both local and foreign investments in the Georgian energy sector, offering potential investors already established projects to invest.
With the financial support of the Norwegian government, ISET established new faculties to develop the environmental and energy efficiency fields, which will be available for ISET students at the beginning of the next academic year.
Norwegian Ambassador to Georgia, Erling Skjensberg, signed a NOK 3,000,000 [slightly more than USD 500,000] grant memorandum with Ivane Javakhishvili Tbilisi State University (TSU) Rector Alexander Kvitashvili and International School of Economics Executive Director, Eric Livny (ISET), on September 19.