School leaving exams started
Tuesday, May 22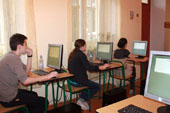 High school exit exams for 2011-2012 started on May 21 at 9 am in all schools of Georgia with the exam being in Georgian Language and Literature. Educational Management Information System (EMIS) will technically support the process of the examination. The twelfth-graders take exams in the format of the CAT system with the computers.
Today, Education Minister Dimitri Shashkini closely observed the process of the exams at Tbilisi public school #49. The Deputy Ministers and other representatives of the Ministry are also monitoring the examination process in the regions of Georgia. The respective units of the Ministry are in standby mode willing to handle any kind of technical problems that might occur during the exams.
The exams are held in eight subjects: Georgian Language and Literature, Foreign Languages (upon choice); Math, History, Geography, Physics, Chemistry and Biology.