Progress made on Davit Gareji quandary
By Gvantsa Gabekhadze
Tuesday, May 22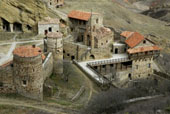 The Georgian and Azeri sides have reached an agreement regarding the Davit Gareji monastery complex. Secretary of National Security, Giga Bokeria and the Interior Ministry's Analytical Department Chair Shota Utiashvili, said a meeting was held between the head of Georgia's border police and his Azeri counterpart on May 20. The sides agreed that tourists, including Georgian citizens, would be permitted to enter the monastery complex without any obstacles.
Utiashvili said this agreement would be active until the delimitation process is complete. In addition, the Georgian side agreed to uphold the obligation that would restrict visitors from entering Azeri territory.
While speaking on the issue, Bokeria directly mentioned the "Russian factor" as it relates to the Davit Gareji issue. He explained that the "irresponsible exaggeration over the Davit Gareji issue might be backed by Russian-ruled forces" who, based on Bokeria's statement, had been trying to strain relations with the Azeri state. He has also mentioned that this situation is not a surprise to anyone, as "all interested figures, including religious officials were informed about it and all their statements have been adequate, unlike those who have attempted to display the reality incorrectly."
A statement was also made by the Deputy Foreign Minister, Nikoloz Vashakidze, who has admitted that the Davit Gareji issue will finally be decided when the border demarcation process is complete.
Opposition parties, presumably hinted at by Bokeria in his statement, blame Georgian authorities for their irresponsible actions and misunderstandings regarding the Azeri side. "Achieving no concrete outcome with the Azerbaijani side concerning the border demarcation indicates the current Georgian leadership's weakness, and their irresponsible statements strains relations with our strategic partner and ally Azerbaijan," spokesperson of the Georgian Dream, Maia Panjikiadze stated, also mentioning that neither Georgian nor Azeri scholars have ever doubted that the Davit Gareji complex is a Georgian historical monument .
It is difficult to say how informed the Georgia's religious figures have been concerning the ongoing issues pertaining to Davit Gareji. Several critical statements have been made by them towards Georgian authorities, directly stating that the Georgian government was not interested in solving the problem. "After the recent statements made by the authorities , I did not personally listen to their statements, but if it is really like this and visitors are allowed into the Udabno Monastery, it means that the problem has been temporally solved," said Archpriest Mikael Botkoveli.
According to analyst Mamuka Asheidze, in raising the Davit Gareji issue, "the government has attempted to cover up some other anti-social actions carried out in the state, the fact that the area is disputable no one doubts. [But] I have no information related to any signed documents between the sides concerning the issue, and because documents have not been presented by either side, I have the impression that the raising of the issue had some other connotation," the analyst stated. He also mentioned that while society's attention was fixated on this problem, the government has sold the cadet's cemetery in Batumi and is selling 25% of Georgian Railways. Everyone knows that the Russians will buy it, as no one is interested in purchasing a run-down railway system. Russia and the government are willing to spend 250 million GEL on the purchase of this strategic asset." The analyst also explained that in this current pre-election period, the government has selected different ways of influencing people. "The authorities are trying to keep people in a permanent [state of] terror and fear. One might thing that such a strategy would cause public irritation; however, a nation in such condition is easily ruled."