Chinese Ambassador Speaks on Mutually Beneficial Cooperation
By Messenger Staff
Wednesday, May 23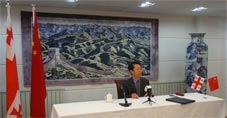 Chinese Ambassador to Georgia Chen Jianfu met representatives of the Georgian media on May 21. Before the meeting, the Georgian media sent questions to the ambassador so he could prepare his answers and deliver them to the journalists. Later he answered some additional questions- in particular; the ambassador highlighted the importance of Chinese investment in Georgia saying that China is actively encouraging private and state companies to invest in Georgia. He also underscored the amount of Georgian wine and mineral water exported to the Chinese market.
The ambassador highlighted the fact that over the past 20 years of bilateral relations between Georgia and China, the two states have become closer to one another. "The political relations between us are developing, [our] bilateral trade is fruitful, and the cultural exchanges are becoming more and more active," he said.
The ambassador also underscored the successful collaboration between the two countries and mentioned that in the last year, Georgian-Chinese turnover stood at $800 million, which is a 200 times increase compared to the turnover in 1992, the year the two countries began diplomatic relations. "China has become Georgia's fourth largest trade partner. Last year China imported 600,000 bottles of wine from Georgia with a total volume of $1.88 million, a 260% increase from the year before."
As for celebrating the 20th anniversary of Georgian Chinese diplomatic relations, the ambassador mentioned that cultural events will be arranged in Tbilisi and Beijing in the second half of the year.
Before the close of the meeting, the Chinese ambassador reconfirmed China's support of Georgia, and expressed his wish to see Georgia's further advancement and development.
The Messenger
welcomes Chinese activities which serve to benefit relations between both Georgia and China.