Saakashvili optimistic after NATO summit
By Ernest Petrosyan
Wednesday, May 23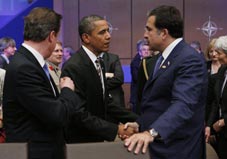 The second day of NATO Chicago summit was fairly encouraging for aspirant countries, as US Secretary of State Hillary Clinton reaffirmed NATO's commitment to its open door policy. "I believe this summit should be the last summit that is not an enlargement summit," Clinton remarked at the meeting of NATO foreign ministers and their counterparts from the four aspirant states.
Referring to Georgia, Clinton once again stressed the importance of parliamentary elections in Georgia. "Georgia has made democratic reforms, and the upcoming parliamentary and presidential elections are additional opportunities for Georgia to show the world that it is committed to NATO's democratic values," Clinton said.
"We stand firm in our support for Georgia's sovereignty and territorial integrity. We welcome Georgia's non-use of force pledge, and we call on Russia to reciprocate with its own pledge. We stand by the Bucharest decision and all subsequent decisions on Georgia," she noted.
She expressed NATO support for Georgia's territorial integrity, and her appreciation and gratitude for Georgia's ISAF operation contribution. Clinton also noted that Georgia would become the largest non-NATO contributor to the ISAF operation this autumn.
The statement she made hinting that the next summit might be an enlargement summit was very encouraging for Georgian President Mikheil Saakashvili. "Hillary Clinton, as well as others, has stated that the next summit will be an enlargement summit – a consensus is being established about it right now," Saakashvili said referring to remarks made by Clinton.
"The next summit will probably take place in 2014 and I think that Georgia will have a very good chance… I've never been so sure about it as I am now. Georgia will be in the best possible "shape" for the next NATO summit and there will be no reason to reject Georgia's membership to the alliance," Saakashvili said.
Speaking to Georgian journalists in Chicago, Saakashvili reiterated his earlier remarks and said that one of the key positive outcomes of the summit was placing Georgia among the three Balkan NATO aspirant countries. "Those three Balkans states will definitely join NATO, everyone knows it; so in this respect, this is a very serious step forward," he said
"Our progress will indeed continue and we will be in the best shape for the next summit in 2014. It will be extremely difficult to explain why NATO does not accept Georgia," said Saakashvili somewhat disappointed, meanwhile noting that much work has yet to be done.
In his remarks to journalists, Saakashvili also said that: "It was a signal that was not only addressed to the Georgian people, but to our neighbors in the region too," Saakashvili said. "I think that it will gain a practical importance for our security starting from today."
NATO summit declarations have not changed much since 2007, when NATO decided that Georgia should become a member state. Since then Georgia's progress and prospects of joining the alliance have remained verbal only.
One of the leaders of the Georgian Dream political party, Irakli Sesiashvili opines that Georgia's prospects for joining NATO in 2014 will depend much on the forthcoming parliamentary elections. "NATO officials repeatedly stressed the importance of reforms in Georgia's judiciary, the elections, freedom of speech and the media. However, the current government has done much to undermine democratic development," Sesiashvili said.
Analyst Giorgi Khutsishvili says that the next NATO summit will be an enlargement summit, which will involve NATO membership candidates, Bosnia and Herzegovina; Montenegro, Macedonia. As for Georgia? It is mentioned as an aspirant country. Much depends on the geopolitical reality.