An interview with Deputy Foreign Minister of Isreal - Danny Ayalon
By Messenger Staff
Wednesday, May 23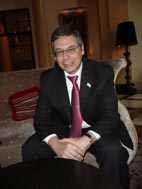 First of all I want to point out how much I enjoy coming to Georgia. I will stay here for five-days, which is an exception, as I want to see the country and to meet the people. I have been visiting [Georgia] since1998. There has been great development in this country in many different directions; it is a very impressive country. Georgians and Jewish people remind me of each other; very old and very strong in traditions and values. This makes Georgia and Israel natural allies. We have the best relations with the Georgian government and with the Georgian people. I came here to discuss how to increase economic cooperation and cultural cooperation- especially in the tourism sector. We are also interested in increasing agricultural and academic relations. We are deepening our relations through high-level meetings, and encouraging the private sector.
Currently Georgia is facing a challenge in the upcoming elections, and different countries expressed their interest in monitoring the process.
Can you comment on Prime Minister Benjamin Netanyahu's recent strong statements regarding Iran?
I can say that we are in a very dangerous reality, not only from a nuclear viewpoint, but also with regards to terrorism. Iran is violating all international agreements. They are losing all privileges when they are violating these agreements and especially the ones made to the Security Council. We reiterate that international pressure must continue on Iran only in this way will it be possible to isolate them.
Israel was supplying Georgia with some equipment, for a certain period the supply was stopped. What about this issue?
Our position towards Abkhazia and South Ossetia is clear:. Georgia is our friend, and Russia is too and we wish the conflict would be solved. We confirm the territorial integrity of Georgia. As for the concrete issue, I think that the issues should be discussed between the state governments.
Do you have any specific mission currently in Georgia or it is just to explore Georgia's touristic places?
It is mainly related with exploring and discussing ways to increase cooperation between Georgia and Israel, and at the same time to express support to our ambassadors in different states, being under pressure of the Iranian actions.
What are the prospects of further developing the friendship and cooperation between the two ally states?
The most available tool of cooperation is tourism, to promote tourism in Georgia is very important, but this is not the only sphere we are interested in. I have mentioned we are interested in industrial, academic, agricultural, economic and some other fields.
Are you going just to discuss the issue or just share your experience with Georgian officials?
Of course we have talks concerning this as well. We want to increase investments, to promote business ties and delegations, and make bilateral relations deeper and intensive in this regard.
Currently Georgia is facing a challenge concerning the upcoming parliamentary elections and several countries have expressed interest to observe the process. Will Israel send observers to Georgia?
It we are invited we would be glad to take part in the process. We are such great friends that we trust the system and institutions in Georgia. In the case of the Georgian government inviting us, of course we will come.
What would you say to our readers?
We love Georgia, we appreciate the people, we admire the way you have reformed the political system after the collapse of the Soviet Union and those steps which are being made towards democracy. I believe that you support us and we support you. The cooperation will be deeper.