US Senator meets with opposition and civil society
By Ernest Petrosyan
Friday, June 1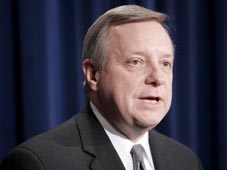 US Senator Richard Durbin, the second-highest ranking Democrat in the US Senate, has expressed interest in the Georgian election campaign during his two-day official visit.
"Today I met the representatives of six opposition parties, and talked about the elections. We agreed that the upcoming parliamentary elections should be free, fair, and transparent," Senator Durbin told journalists on Thursday. "It should also be noted, that the last word should be after Georgian voters, and not after any of your guests, observers, or visitors," he said.
According to him, the media also needs to be free and available. "We [in the US] have up to 500 TV channels, and today's situation is that, the candidate who has much money can buy much media time. I hope this will not happen in Georgia. There should be an environment which will [allow] any candidate to express a view," he noted.
In his remarks, he also thanked the Georgian people for their participation in the ISAF mission in Afghanistan.
"I would like to extend the gratitude of my people for the role of Georgian soldiers in Afghanistan. I agree with President Obama's assessment that this country will become a NATO member," he said.
David Gamkrelidze, leader of the New Rights party, noted before the meeting that the US Senator's visit is a very important one.
"He is the Deputy Leader of the US Senate majority, and accordingly, his role and positions are very influential, not only in the Senate, but in the entire Obama administration. Thus his support [for] free and fair elections in Georgia is important," Gamkrelidze said.
Chair of Georgian Dream coalition, Manana Kobakhidza, said that issues related to elections and her coalition were raised at the meeting.
"We talked about the government's illegal actions, namely, pressure on our activists. Political persecution has increased recently. We also stressed problems created by the government after Ivanishvili's entry in politics," she remarked.
Prior his meeting with opposition parties, Senator Durbin held a meeting with civil society representatives, at which he revealed interest in the upcoming elections, said representative of Fair Elections, Nino Lomjaria. According to Lomjaria, Senator Durbin is also interested in the functioning of democratic institutions, political party funding, and NGO activity.
Tamar Chugoshvili, Chair of the Georgian Young Lawyers' Association, said that in the meeting with Durbin, she stressed the issue of equal broadcast rights for television channels. She also noted the flaws in the legislative and judiciary systems.
The US Senator also met with President Mikheil Saakashvili on the first day of his visit.
Senator Durbin, who also sits on the Foreign Relations Committee, arrived in Tbilisi after visiting Kiev and Ankara. Today he travels to Yerevan.