GPA launches new projects to support print media
Friday, June 1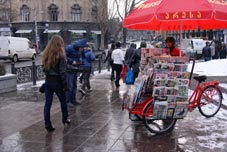 In December of last year, the Georgian Press Association (GPA) established an organization to support independent media. Its goal was to ensure distribution when Tbilisi City Hall was closing down press kiosks across the city, in favour of shops that sell food.
Since then, the GPA has organized logistics centres across the city that regulate the sale of print media. They built 140 mobile stands as a new distribution system, including 30 bicycle stands slated to appear in the near future. All press stand employees are provided with special uniforms – coats, caps, and rainproofs – free of charge. According to GPA Director Lekso Jikia, the system will be implemented in other Georgian cities.
The organization also carried out research concerning the cooperation between print media and advertising companies, as well as the readiness of the Tbilisi population in subscribing to newspapers and magazines. As a result of their findings, a new subscription campaign was launched, and new post boxes are being installed.
A journalism competition was also announced, titled "I Choose Press". Young journalists are encouraged to enter, to help them fully realize their potential and to give editors the opportunity to discover new talent.