Former Lithuanian president honoured in Anaklia
By Messenger Staff
Monday, June 4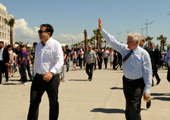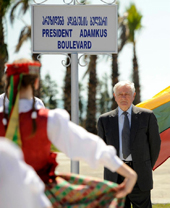 On Saturday, a boulevard named after Valdas Adamkus, the former president of Lithuania, was opened in Anaklia. President Mikheil Saakashvili hosted Adamkus at the Black Sea resort town, and thanked him for his friendship.
In his speech, Saakashvili emphasized both the diplomatic and personal relationship between the two countries, and recalled the support Lithuania expressed for Georgia during the August War of 2008.
"In the most difficult period of this country, Valdas Adamkus showed his unanimous support towards us," the President said. In 2008, when Russia invaded Georgia, Adamkus - alongside other European leaders - visited Tbilisi and side-by-side with the Georgian people in capital's centre.
Saakashvili also noted how much Lithuania did for Georgia on the international stage, during the period of the Rose Revolution.
"For Georgia, Adamkus is a great historic figure as well as for his native country – Lithuania. We express our great respect for him and the Lithuanian nation. From August 8 to August 13 in 2008 in Lithuania, where half as many people live as in Georgia, more than 300,000 Georgian flags were sold. [All of] Lithuania was standing to support us," the President added.
Former President Adamkus wished Georgia success. In his speech, he also touched upon the reforms carried out in Georgia.
"I am happy I am with those young people. This generation is the future of Georgia and Lithuania. I have been to Georgia many times and I would like to note that during all visits I felt warmth and friendly relations from Georgia. Georgia and Lithuania have many things in common. We have always remembered to fight for common values. We have always remembered that we always wanted to be free and independent countries, oriented on progress. I am glad to see the Georgian people's decision to stand for common values – freedom, independence, reforms, better future for the next generations," Adamkus stated.