Only five percent of students fail certification exams
By Salome Modebadze
Monday, June 4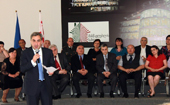 Five percent of the over 41,000 high school students who wrote the Unified National Exams failed. This stands in contrast to the 17% failure rate of last year's exams.
"We couldn't even dream of such results. It means that the system works well," Prime Minister Nika Gilauri told school principals on May 31, while summarizing the results of the certification exams.
Calling the government's education reforms successful, Gilauri praised teachers and principals for their contributions to the reform process. He said that despite mistakes made during the exam period, the system worked well.
Of the 20 schools with the best results, five were private and five public; Rustavi Public School #4 was at the top of the list with the highest average score. Emphasizing the role of principals in forming the image of their schools, the Prime Minister welcomed the success of the Rustavi school, which has consistently been near the top of the rankings.
"Who teaches better he/she will get more, and who is a good manager – will be promoted. This is our simple principle," Gilauri said. Explaining that the government would look at those principals whose schools performed worst in the exams, he remarked that bad principals should be aware that he or she could lose their job, while a good principal will be honoured.
Principal of Rustavi School #4, Mamuka Kamkhadze, called the certification exams "the most successful project" of the education reforms. "[This exam] has increased the value of education among the pupils and enabled the schools to find their deserving places in the country without any patronage," Kamkhadze said.
Summing up the school exit examinations for the 2011-2012 academic year, Minister of Education and Science Dimitri Shashkin said the competition amongst schools has improved their productivity.
The Minister explained that the minimal competence level for the eight subjects tested was 5.5 without exception, while last year three subjects had -5.2. Shashkin said he did not expect such good results this year. "The situation has changed radically - children go to school and get an education in all eight subjects," he remarked.
It was last year when the first certification exams were introduced into the Georgian education system. High school graduates are tested on their knowledge of Georgian language and literature, a foreign language, history, geography, physics, chemistry, biology, and math, using a computerized adaptive testing method.
Welcoming improvement in the quality of education in Georgia, the most successful school principals shared their "formula for success". According to them, the ongoing education reforms have increased motivation amongst graduates, as well as stimulated co-operation between teachers and principals.