US recognizes neutral travel documents
By Ernest Petrosyan
Thursday, June 7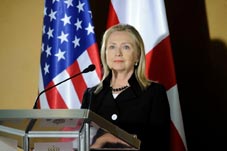 President Mikheil Saakashvili has hailed the recognition of Georgia's neutral travel document (NTD) for residents of the breakaway regions by the US Secretary of State, Hilary Clinton.
"Until now, these documents were [only] recognized by the Baltic states and Japan; now the United States has also recognized it, which means that many other states will follow suit," Saakashvili said.
"It will allow our compatriots [in the breakaway regions] not to take forcefully [imposed] Russian passports and instead travel throughout the world with the documents issued by the Georgian state; it is a huge diplomatic support from the US administration," he added.
The Georgian government introduced neutral travel documents and ID cards for the residents of breakaway regions to allow them to travel abroad and enjoy the various social benefits and services available to Georgian citizens.
However, the governments of both Abkhazia and South Ossetia have rejected the idea of the documents, saying such an approach was an attempt to push both territories into isolation.
The European Union has also welcomed the initiative of neutral travel documents, but noted that they should not be the only means of travel for these populations until they are more widely accepted by the international community.
Analyst on conflict issues Paata Zakareishvili is somewhat skeptical about the NTDs, as he believes that they will do little to change the situation. According to him, Clinton's statement was made at the Georgian government's request.
"This document is unacceptable for Abkhazians. It this case it is not important whether the US will support it or not, important are the issues of [when] we will agree with Abkhazians. In this case, the US is powerless. The documents have been issued for quite a long time, however, neither Abkhazians nor Ossetians accept them," Zakareishvili said, adding that those who are ready to accept an NTD would rather just receive a Georgian passport, which is multifunctional and is not a just a part of "a PR campaign".
Leader of the European Democrats and Parliamentary Vice-Speaker, Paata Davitaia, on the contrary, maintains that the document will serve as an open window for those living beyond the administrative borders, which he says, still look to Georgia.
Davitaia noted that this initiative supports public diplomacy and re-integration, meanwhile giving a signal to those who are thinking about assimilation into the Russian Federation.
He affirms that Clinton's statement had two meanings. "On the one hand, it is a sign that the US will not put up with Georgia's occupation, on the other hand it opens a way for the occupied regions to Georgia".
However, he acknowledged that NTDs are mainly used by students and those who travel to Tbilisi for medical treatment.
One July 1 of last year, Parliament passed a package of government-proposed legislative amendments envisaging the issuance of neutral travel documents and identification cards for those legally residing in breakaway Abkhazia and South Ossetia.