Saakashvili remains mum on political future
By Gvantsa Gabekhadze
Thursday, June 7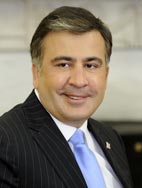 President Mikheil Saakashvili has again declined to give a concrete answer about his plans after his term expires in 2013.
At a press conference with US Secretary of State Hilary Clinton, Saakashvili responded to a question from Reuters about his potential move to the Prime Minister's seat, saying, "It is more important to talk about what institutions will do in the future, how the strengthening of democracy will proceed – it is the most important for me and for my people. The people's choice will bring changes to the county in October".
The international media, in their coverage of Clinton's visit, have addressed the concern of many Georgians that Saakashvili will emulate Russian President Vladimir Putin and use the Prime Minister's position to retain power.
The US State Department has declined to comment on Saakashvili's future, but have stressed to Georgian politicians that democratic transfers of power must be "genuine".
Leader of the Christian-Democrats, Giorgi Targamadze, noted that there is good reason for the President to be cagey about his plans. "The National Movement's success is based on Saakashvili," he said, stating that the party without Saakashvili is likely to be far less popular. Targamadze believes that behind closed doors, this issue was likely raised by Secretary Clinton.
Political analyst Ramaz Sakvarelidze says that "Clinton made an interesting remark. She stated that the way institutions function depends upon individuals and leaders". The analyst also noted that, as Saakashvili is still young for a politician, it would be surprising if he retired from politics so early – "However, he could not say it openly, as such a statement would offend the international community," Sakvarelidze asserted.
According to fellow analyst, Soso Tsikarishvili, the current administration's statements concerning support for strong democratic institutions is "an illusion", as almost all structures in the public sphere are under governmental influence or control. "The US must demand [the same] standards of democracy from the Georgian government as [they have] in the United States," he said.