Ivanishvili emphasizes impartial courts and industry in Kutaisi speech
By Gvantsa Gabekhadze
Monday, June 11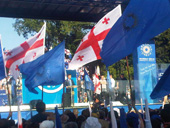 Thousands of people attended the Georgian Dream coalition's rally in Kutaisi, the second largest city in Georgia. There, leader Bidzina Ivanishvili gave more details about his party's plans to tackle the problems facing the country.
Ivanishvili announced that should Georgian Dream win the parliamentary elections this fall, their first act would be to create an impartial judicial and law enforcement system, one that would serve the public rather than any particularly political party. "Only under free courts and police would people have a sense of justice," he said.
Unlike the current administration, Ivanishvili did not name tourism as a government priority; instead, he emphasized the need for development in the agricultural and industrial sectors, particularly the use of modern technologies. "As soon as we come to power, an agricultural fund will be established with 1 billion GEL," Ivanishvili promised, noting that an economy in which Georgians will be employed based on their knowledge and abilities will be constructed, and the government will not forget the disabled.
Both the health and education systems will be overhauled. Ivanishvili announced that this coalition has been working with professionals in both spheres, developing a plan and taking into consideration the recommendations of international organizations. "It is my promise that each Georgian will have government [health] insurance. Of course, if someone wishes to [use] with private insurance companies, it is his decision and no one will oppose this."
Ivanishvili also stated his intention to build a new technical university in Kutaisi, which will help the city become an educational centre. He said that from there, Georgia can produce qualified professionals to reduce its dependence on foreign assistance. The coalition leader also stressed that, under his mandate, teaching would become a respected profession.
Ivanishvili also stressed that "thief mentality" will not be restored in the state and the similar "disease" –elite corruption will also be eradicated.
At the rally, the coalition also named some of its candidates for election: Gubaz Sanikidze in Kutaisi, Kakhi Kaladze in Samtredia, Eliso Chapidze in Tkibuli, Archil Kbilashvili in Bagdati, Gogi Kavtaradze in Zestaponi, and Nodar Ebanoidze in Kharagauli.
The date of the next Georgian Dream rally was also named - June 17 in Ozurgeti.
As political analyst Soso Tsiskarishvili told
The Messenger
, the rally in Kutaisi was as successful as the one held in Tbilisi on May 27.
As majority representative, Akaki Bobokhidze mentioned he could hear nothing new from Ivanishvili while the rally. Moreover, he has stated that Kutaisi residents did not attend the manifestation at all as in this case the square would not be enough. "As for the statement concerning that Kutaisi will become an education centre, there is no need of it ,as the city already performs this function.," Bobokhidze, said.
"Emphasizing [independent] courts and police is a sign that Georgian Dream is [courting] international organizations. One of the main reasons why Georgia is not in NATO or the EU is that there is no free court system in the country, and the existence of an impartial court is one of the main demands of those organizations," Tsiskarishvili said.
Analyst Ramaz Sakvarelidze believes that Ivanishvili's emphasis on agriculture and industry over tourism is a good one. "The strategy that each region's [specific needs] are taken into consideration when holding a rally is also the right choice," he noted.
Sakvarelidze also said that naming candidates for election was a "brave" move, as generally political parties wait for their opponent to announce candidates, in order to find someone stronger to put up against them. "All the candidates named by Georgian Dream are powerful and respectable, but how strong they [in comparison to United National Movement candidates] is yet to be revealed," he said.