Unified National Exams to be restructured for 2012-2013 school year
By Salome Modebadze
Monday, June 11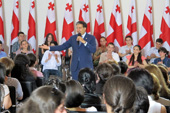 From the next academic year, high school graduation tests will determine the fate of university entrants in Georgia, just like their European peers, President Mikheil Saakashvili said on June 7.
Announcing that there will be no Unified National Exams next year, Saakashvili explained that university entrants should have gained enough knowledge from schools to qualify for higher education. Currently, high school students write eight subject-specific certification exams in order to graduate, and then write four more exams in order to gain entrance to a university - on Georgian language and literature, a foreign language, general skills, and one elective. But as the President noted, most families cannot afford to hire tutors to prepare their children for the university entrance exams, especially in rural areas.
Calling the Unified National Exams an important stage in the reform process, Saakashvili worried that high school students paid less attention to their studies and were more motivated to prepare for the exams. "The schools had become empty," Saakashvili said, adding that Minister of Education and Science Dimitri Shashkin has brought children back into the schools.
As he explained, it is not necessary to have exams only in the summer. The high school graduates who fail the exam next year will have an opportunity to re-take the tests at any time during the year. "Let them pass [the exams] when they can," Saakashvili said.
The new exam system will be enacted by the National Examination Centre (NAEC). Praising its new Director, Khatia Dekanoidze, Saakashvili said that she has a new vision, one that is necessary for reform. "We always need renovation, nothing can stop reform," he explained.
As Minister Shashkin remarked, the content and level of competence for the new exams will be defined by education experts, ideally by the end of August, so that the exams can go ahead as scheduled for May 2013.
The NAEC's former Director, Maia Miminoshvili, hesitated to comment on the issue, but told The Messenger that after a small "time out" she will discuss education issues with her team under the umbrella of a new organization they plan to introduce next week.
Simon Janashia, a professor at Ilia State University, said in order to have a strong examination system, universities should have their own criteria for selecting students through different types of exams. Janashia said some schools and universities already have such an approach. "The more criteria the better," he told The Messenger.
Janashia notes that although the Unified National Exams were good for eradicating corruption in the education sector, they also limited the universities in establishing their own criteria. "This new system would have the same problem," he explained. By introducing graduation exams, schoolchildren become oriented on tests, not the quality of their education; moreover the percentage of failed students is reflected on schools and their principals- schools prefer to get rid of those children who may fail tests, in order to improve the institution's reputation. This means that more students may lack proper education.