Bus tour aims to raise awareness about EU projects
Wednesday, June 13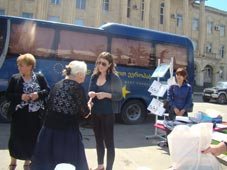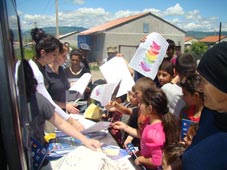 The EU's "Let's Meet Europe on Wheels" mobile information centre has made an appearance in Georgia, with its first stop in Gori on June 2.
The bus was parked in front of the Gori Municipal building and representatives from the city government, civil society, and the EU Delegation in Georgia presented EU-backed projects for the Shida Kartli region to a diverse audience. People of different ages and professions gathered around the bus, collecting informative brochures about the projects, asking questions, and watching EU-related documentaries. Later that day, the bus visited IDP settlements in Shavshvebi.
Giuseppe Vasques, the Press and Information Officer of the EU delegation to Georgia, commented, "'Let's Meet Europe on Wheels'" is a new initiative to illustrate the co-operation between the EU and Georgia by informing the general public about EU-financed projects in the country. The bus hosting the Mobile Information Centre will visit various regions and organize exhibitions and fairs together with regional municipalities, universities and schools until the end of the year".
The Mobile Information Centre is part of the "Let's Meet Europe" project, initiated in order to raise awareness about co-operation between the European Union and Georgia.