Study finds Tbilisi City Hall lacks budget transparency
By Gvantsa Gabekhadze
Wednesday, June 13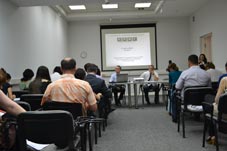 Three think tanks – the PMC Research Centre, the Economic Policy Research Centre (EPRC), and the Caucasus Economic and Social Research Centre (CESRC) – have released a report assessing the current Tbilisi city budget as "obscure".
At a presentation at the Open Society Georgia offices held on Tuesday, findings based on the last five months of budget decisions found that City Hall lacks transparency. The study covered five areas of spending: budget dynamics since 2007, health and social programs, the reserve fund, and cleaning and sanitary services.
The report revealed that City Hall fails to disclose information that is considered, by law, to be public, i.e. regarding kindergartens and changes to the reserve fund. The authors exchanged emails with the Mayor's Office regarding the lack of information on its website, but received unhelpful responses.
Mikheil Dzagania of the Caucasus Economic and Social Research Centre, noted that some information was available. Between 2011 and 2012, spending on security and public order was seriously reduced in favour of cultural and entertainment initiatives. Health and social expenses were also reduced this year. However, there are no detailed reports on these changes available to the public.
He also noted that a large number of children enrolled in city kindergartens come from high-income families, and so the co-financing system for tuition may be inappropriate. "The issue of how the kindergartens are being provided with food and materials is obscure; it is obscure who undertakes purchasing of those items and products," Dzagania added.
Information regarding the reserve fund is also largely unavailable, CESRC representative Shota Murghulia said. No one outside City Hall knows how much money is in the fund, and how much has been contributed – or withdrawn – from it.
The report also drew attention to the "unique method" of paying city cleaning fees. Households are charged a variable cleaning fee, one that is linked to their electricity usage. If a family fails to pay the cleaning fee, their electricity is switched off. The authors emphasized that another system needs to be established.
While the Mayor's Office will introduce a new budget system in 2013, one that meets international standards, the authors argue that it will be just as obscure and inefficient as the old one. EPRC representative Mikheil Kukava says that the city has expressed interest in collaborating with civil society groups to improve the process, but expressed doubts on the success of this, based on the experience of pilot projects in 2010 and 2011.
The think tanks, in their recommendations, reminded the city that it can act independently of the national government, and so has more flexibility when it comes to policy and spending. They drafted a model of a budget system that they hope City Hall will respond to.