Shashkin re-affirms commitment to continuing education reform
By Salome Modebadze
Wednesday, June 13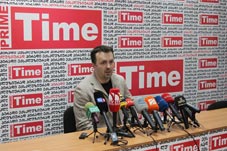 Minister of Education and Science Dimitri Shashkin has declared that the Unified National Exams will be successful this year. Speaking of the reforms made to the education sector at the Prime Time press club on Tuesday, Shashkin said it is not the people who rule the country but institutions which ensure its democratic development.
It was after dismissal of Maia Miminoshvili, the former director of the National Education Centre, when the Minister took on the responsibility to ensure a high quality of examinations.
Shashkin spoke of the advantages of the new model, which will allow high school students to enrol at their desired university with high school graduation certificates. The Minister said it would be more comfortable for them and they would experience less pressure.
Starting from the next academic year, students will write eight subject exams plus one in general skills and abilities, instead of the four skills tests required by the Unified National Exams. The exams are expected to be ready this August and testing will being in December, ensuring that students who will have the opportunity to re-take before the school year is over
"Tests are the subject of taste," the Minister said, explaining that no matter the type of exam, it should strictly follow the national education plan. He said he is even ready to co-operate with Maia Miminoshvili's soon-to-be revealed education policy organization, but only on contextual issues.
He also confirmed that those students with valid TOEFL, IELTS and other internationally-approved language certificates will not be required to take English-language exams.
Welcoming the smaller number of students who failed the high school graduate exams this year, Shashkin said only 10% of ethnic minorities failed the Georgian language and literature test, while last year this figure was 60%. "I'm very pleased with the results; the level of education has increased in all the eight compulsory subjects at schools," Shashkin said.
This, according to the Minister, will also bring the Georgian education system closer to European standards.
Remembering when teachers used to earn only 28 GEL per month and when schools lacked necessary infrastructure before the Rose Revolution in 2003, Shashkin spoke of the importance of the Unified National Exams in terms of overcoming corruption - but added that today, schools have the ability to run their own examinations.
He said students have now returned to schools, teachers have motivation to improve their qualifications and earn better salaries, and principals have greater responsibilities. "Reform is like a bicycle – if you stop you'll fall down," the Minister said, adding that the new Teachers' House has created standards which can offer a comfortable environment to teachers, especially those over 60 years old, who need more time to familiarize themselves with the computerized tests.