Georgian tourism strategy linked to economic growth
By Salome Modebadze
Thursday, June 14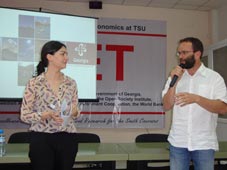 Maia Sidamonidze, Chair of the Georgian National Tourism Administration (GNTA) met with students of the International School of Economics at Tbilisi State University (ISET) on June 12. Explaining how tourism contributes to the Georgian economy, Sidamonidze said that sector is one of the fastest-growing and largest employers in the country.
In order to improve the quality of tourism services offered, Sidamonidze said Georgia needs to attract more investors, both domestic and international. "Our priority is to employ Georgians, but we need skilled and qualified people," she said in response to a student's question about whether foreign investors will bring their own workers or offer jobs to locals.
The government has designated Kobuleti and Anaklia as free tourism zones for investors, in hopes of attracting financing for hotels and other infrastructure. Investors will be exempt from income and property taxes for 15 years.
When asked if the new hotels will be accessible to Georgians, Sidamonidze noted that although people are usually unwilling to discuss their finances, the GNTA would work on demographic data. "Some people can't afford [to stay at international hotels]," she conceded, confirming that prices are high. But she hopes that a more competitive market would bring better quality and service and a balance between demand and supply would solve the problem.
Kempinski and Hilton hotels are expected to enter Georgia in the future. Sidamonidze acknowledged that local hotels do not yet meet international standards due to a lack of facilities for disabled persons, inadequate fire protection systems, and so on. When the local hotels were classified, those that received 2 or 3 stars decided not to display this on their signs. Sidamonidze believes it is a problem of mentality, when people think that only 4 or 5 star hotels are worth patronizing.
Georgia is still working towards international standards in many areas. Although visitors enjoy their stay here, some 70% express dissatisfaction about the transportation infrastructure linking tourist destinations.
An open sky policy, no VAT for incoming tour operators, and visa facilitation are on the list of tourism initiatives prioritized by the Georgian government. As Sidamonidze explained, the GNTA works in close co-ordination with a number of ministries. She said the lifting of the visa requirement for Russian citizens was a good example of the government's dedication to tourism. Russia has since become one of the top five sources of tourists in Georgia.
Students also wanted to know why international airlines have received encouragement from the Georgian government when domestic companies like Airzena are on the edge of bankruptcy. "We can't interfere in their flight policy," Sidamonidze said, explaining that it is the customers who express dissatisfaction with Airzena. That airline had a monopoly on some destinations but the quality of new companies beat them. "It's the rule of the game," she remarked.
According to the GNTA, there were 2,820,185 international visitors to Georgia in 2011. Welcoming the 39% growth over the previous year, Sidamonidze explained that the average expenditure depends on purpose of visit and ranges between $310-590 USD per day. Turkey, Azerbaijan, Armenia, Russia, and Iran top the list of tourist source countries. The main target markets for Georgia are the Commonwealth of Independent States, Eastern European, and the Baltic countries. Sidamonidze noted, however, that without a proper marketing campaign it will be difficult to increase awareness of Georgia and attract grow into new markets.
Concluding her remarks, Sidamonidze welcomed any comments and ideas about tourism from the audience.
"We have these seminars very often. We are economists [so] students have lots of questions on different aspects of the economy, but today they have been more active than usual," ISET Director Eric Livny told The Messenger.
"If you look at the statistics today, most international arrivals are coming from neighbouring countries, but the challenge for Georgia is to open new markets," he said, adding that tourism plays a major role in the Georgian economy as one of the fastest growing industries. Although Georgia will need revenue from sources other than tourism, Livny highlighted that today it is a useful tool to create jobs and grow the economy.