Russia to deport more Georgian citizens
By Ernest Petrosyan
Friday, June 15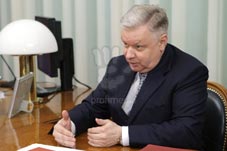 The Russian leadership is preparing the ground for another wave of expulsions, sending illegal Georgian migrants out of the Russian Federation. Head of Russia's Federal Migration Service, Konstantin Romodanovsky, said on June 13 that over 9,000 of the Georgian citizens who reside in Russia are violating immigration law.
"We will find these people and either the migration service or a court will then make a decision about them," Romodanovsky told journalists, according to Russian news agencies.
Russian authorities released a statement on the same day the Strasbourg-based European Court of Human Rights heard Georgia's complaints about Russian deportations of ethnic Georgians more than five years ago. The case refers to alleged harassment of Georgian immigrants, as well as their deportation in poor conditions, namely cargo planes. Several of the deportees died during arrests. The expulsion of Georgians was followed by the arrest of four Russian officers serving in Georgia on charges of espionage.
Romanovsky maintained that "only [illegal] Georgians were deported" in 2006.
The Ministry of Foreign Affairs of Georgia commented on the Russian government's statement, saying this marked the launch of "yet another campaign of persecution against Georgian citizens" in Russia.
The Foreign Ministry's statement began with a reference to police searches of homes belonging to several Russian opposition leaders in Moscow, linking it to what the Georgian government calls a "wave of mass human rights violations" – including deportations.
Zurab Abashidze, a political analyst and former Georgian Ambassador to Russia, confirms that the statements made by the Russian Migration Service head are in response to the Georgian case in Stransburg. "I believe that only a political [motivation] stands behind that statement. If, for instance, illegal residents from some other countries are also deported, there are plenty of them from the Middle East, then one can say that it is a general migration policy. However, the statement referred only to Georgians," Abashidze told The Messenger. He notes, however, that unlike the previous wave of deportations, the coming one will be conducted in better conditions.