NGOs find court system not impartial
By Gvantsa Gabekhadze
Friday, June 15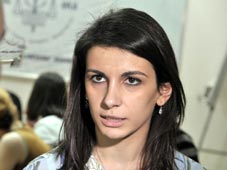 Research carried out by two non-governmental organizations – the Georgian Young Lawyers Association (GYLA) and Transparency International Georgia – reveal a poor situation in the Georgian judicial system.
The two NGOs delivered a report on the outcome of six months of observing Tbilisi and Batumi courts.
According to the Chair of GYLA, Tamar Chugoshvili, there are clear indications that the courts make politically-motivated decisions and are not impartial while hearing cases.
"We have observed too many trials [where] judges did not satisfy the motions of the defense if the prosecutor did not agree with the motions," Chugoshvili said, asserting that judges would favour detention forms raised by prosecutors. She believes that there is a "too loyal attitude towards prosecutors and a dependence of judges on them".
Transparency International Georgia was interested in administrative cases. Chair of the organization, Nina Khatiskatsi, found that the number of trials won by the government was remarkably high – 92.6% of all trials. "This issue concerns us [a lot]. Such a high indicator and the low initiative of judges create serious problems in the court system," Khatiskatsi stated.
The NGOs also emphasized the handling of two similar cases, both violations of the Law on Political Unions of Citizens. One involved Georgian Dream leader Bidzina Ivanishvili and the other, Deputy Chair of Rustavi City Council, Kakha Baratashvili.
As Khatiskatsi explained, Ivanishvili's case was carried out "with restrictions", meaning that only six individuals were allowed to witness the trial, despite the intense public interest in the proceedings. Both organizations have already delivered their recommendations to the Tbilisi City Court concerning these irregularities.
As for the second case, Transparency International Georgia believes that the Chamber of Control acts differently towards the administration and opposition parties concerning the same violation.
Although Baratashvili distributed wine and sheep to Rustavi residents as Easter gifts and the Chamber is investigating the issue, they have not cited article 164 of the law, which concerns bribing of voters for electoral purposes. "Baratashvili is an official and his political aims are obvious," Khatiskatsi said, adding the Chamber's decision "surprising", as for the same violation the agency immediately involved the Prosecutor's Office when Georgian Dream activists promised material assistance to voters. "Those people were punished just for promising, when Baratashvili committed... a direct violation of the law. However, the Chamber of Control does not see bribing of voters in Baratashvili's case," she remarked.
According to a statement released by the Chamber of Control, Baratashvili bought the wine and sheep with his own money, but broke the Law on Political Unions as the gift-giving was done in favour of the United National Movement party. The Chamber has delivered material concerning the violation to the Tbilisi City Court for a hearing.