President visits Emergency Control Center 112
Thursday, June 21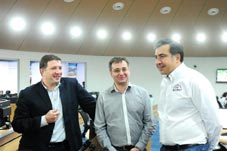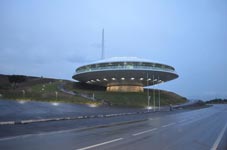 President Mikheil Saakashvili visited the Emergency Control Center 112 and talked with the staff. Tbilisi Mayor Gigi Ugulava and the Director of the center Mamuka Kobakhia went over the principles of their work to the president personally. The president asked the staff questions about their schedules, duties and their working terms.
Saakashvili spoke about the changes which were implemented in the emergency services and patrol police after the Rose Revolution.
The Emergency Center moved to a new office last month. It unifies the control center of fire, rescue, medical emergency and patrolling services, which are available 24 hours a day by dialing the number 112 from any mobile and fixed telecommunication network. The phone call is free and people can dial it even when their deposits on their telephone account have expired and also without a SIM card.
"This is the difference between before and after the Rose Revolution in Georgia. Then, emergency services were many including private services. If someone felt bad in the streets no one would care unless you showed them money. Each service had different numbers then and it was not uncommon to wait for operator for hours. Police buildings were closed and there was a chance that no one would response. Now the situation is different, we have developed modern state institutions. We are doing many things effectively and I am impressed by it," Saakashvili said.
Georgia's 112 emergency service is similar to the European 112 and American 911 services. The center has a personnel comprised of about 300 staff.