BP grants spark agri-businesses in Georgia's regions
By Ernest Petrosyan
Thursday, June 21
Georgia's British Petroleum-led projects on Community Sustainable Development Initiatives have brought a positive outcome to the Samtskhe-Javakheti region, along with BP operated Baku-Tbilisi-Ceyhan (BTC) pipeline and the South Caucasus (SCP) pipeline route - a project also operated by BP Georgia.
Within the wide range of steps taken to develop Georgia's local economic and environment capacity, BP launched a three-year project management training initiative. As a result, the local population gained experience in submitting projects for micro-grants. BP provided a total of 21 micro-grants to local entrepreneurs whose project was successful.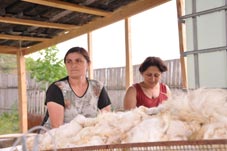 One of the authors of a successful project in the village of Klde was Tamar Tsikarishvili and her partner who received a $2,000 grant from BP. This in-turn helped them to embark on a business that produced wool blankets and mattresses. Tsikarishvili's family owns about 50 sheep, which are cut twice a year, thereby yielding up to 3 kilograms of wool per year from each sheep. According to Tsikarishvili, the business is quite lucrative, as they have many orders from Akhaltsikhe.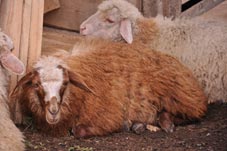 "We have been thinking to extend our business due to the high demand [of our products], however this business is seasonal and we depend on the weather to dry the wool for further manufacturing," noted Tsikarishvili.
"Without the BP grant we would not be able to launch our wool business; for instance, bank loans are a pretty heavy burden at start of a business, whereas business enterprises launched with the help of grants is much easier, as there is no monthly pressure in terms of bank loans," said Tsikarishvili.
Resident of the same village, David Nozadze and his partner received a $2,000 grant in the process of launching a computer lab in the village. The funds were spent on the purchase of two desktop computers, and later on a laptop with an Internet connection.
"There was not a publicly available lab and internet connection available in the village, so our lab is the first. Additionally, cable Internet systems are not highly developed in our village," said David.
BP's fourth phase of the Community Development project put a priority on agricultural development along the pipeline route implemented by CARE international in the Caucasus. As a result of the project, nearly 600 farmers in more than 20 communities found a direct benefit. The project envisaged the rehabilitation of an irrigation system, as well as the involvement of well-qualified agronomists, who assisted local farmers.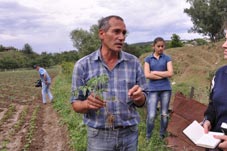 Mugo Movsesyan, an agro consultant for the RDI project says that various new types of vegetables (tomatoes, cucumbers and potatoes) were planted within the framework of the project; these vegetables are more than twice as productive and resistant to unfavorable or inclement weather.
The Elkana project is another agricultural project supported by BP and the BP Foundation. With a grant of $40,000, they involved 21 farmers in the process of reviving Meskhetian wheat, which is called Tsiteli Doli. About 10 hectares of Tsiteli doli were planted in 2010, which has been widening over the years. Nonetheless, the project is finished and nearly 30 hectares have been planted by farmers. According to Elkana Project Coordinator Muradi Gogoladze, tsiteli doli wheat has a better taste and is more resistant to harsh climates.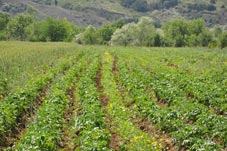 "Farmers liked this type of wheat and plant it themselves. It is a very liquid product, and Elkana's partner company– Begeli has consumed all the collected harvest. Last year we collected about 26 tons of wheat, which quickly sold out," Gogoladze stated.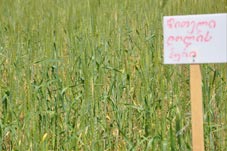 Within the Community Investment program, BP as well as the BTC, SCP and Eurasian Foundation, launched a project entitled Farmers and Market aimed at linking-up the production process with the market. This in turn helped facilitate the farmers' production sales. The main aim of the program was the creation of consolidation centers for agricultural products. Six such centers were created along the pipeline, where each was granted $125,000 from Millennium Challenge and $50, 000 from BP. The main priority for tenders conducted by CARE International of the Caucasus was not just to purchase milk from farmers but was to show where the products can be sold on the market. One of the six consolidation centers along the pipeline is a milk processing factory.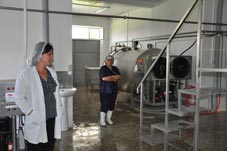 About 350 farmers sell their milk to the factory. The price varies from 50 tetri in the summer to 70 tetri in the winter. Farmers say that selling their milk to the factory is convenient, as they do not have to concentrate on other things and can directly sell their products to consumers. Farmers say that on average they sell about 20-25 liters of milk daily.