Georgian Parliament tackles election ballot issues
By Salome Modebadze
Thursday, June 21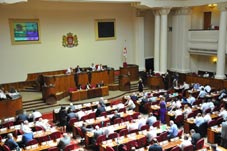 Changes in the Georgian elections law were adopted by the parliament on June 19. The code which had been the subject of long discussions, enables any Georgian citizen from age 21 to become an MP. Moreover, citizens of a European Union member country who was born in Georgia and resided there for the last-five years can participate in elections as MP candidates or as voters.
Tatuli Todua from the Georgian Young Lawyers Association (GYLA) suggested clarification of the mechanisms and criteria which central Election Commission (CEC) would consider during registration. But as Pavle Kublashvili, Chairman of the Legal Issues Committee said, both ways would be possible.
Tatuli Todua from the Georgian Young Lawyers Association (GYLA) spoke of the theoretical chance that people removed from registration by the Public Registry Agency may vote at two precincts
People who lived at particular addresses were removed from those places upon the demand of the owners. Todua said it would be incorrect if the State Commission for Insuring Votersí List Accuracy would use those registration addresses in the door-to-door campaign when these people live at new places. She said the state should raise the awareness of those people so that they will register at the Public Registry Agency under their new addresses.
But Mamuka Katsitadze from the New Rights Party, and who is also the Chairman of the State Commission for Insuring Votersí List Accuracy, said such people were deleted from the list of the Public Registry Agency and had lost the right to vote. However, he said that now they have new addresses and they would vote at the relevant precincts.
At the Parliamentary debates on Tuesday, MPs argued about whether the unused or invalid ballot papers should be counted with the valid papers. But they denied the idea because they think it would be too easy to define the number of unused papers if the number of valid and invalid ballots is properly summed up.
However, the recommendation of opposition MP Dimitri Lortkipanidze to ensure observers not only at the precinct election commissions (PEC) but at district and central election commissions was welcomed and included in the code. The activities of international observers should be based on internationally acknowledged principles, but Tatuli Todua wondered how the CEC would ensure political impartiality of the presented organisation and its transparency. She worried that such an opportunity would become the reason for subjective decisions.