Czech Ambassador reflects on Abkhaz visit
By Ernest Petrosyan
Friday, June 22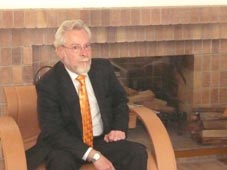 Abkhazian officials' comments regarding the recognition of neutral travel documents by the Czech Republic were very critical, said Czech Republic Ambassador Ivan Jestrab, during a briefing on June 21 after arriving home from Sokhumi.
"They said it openly several times; I explained to them that the acceptance of the neutral travel documents was led by a desire to find a compromise solution, which will enable people from Abkhazia to travel abroad.
Ambassador Jestrab assessed the visit as "very interesting and useful." According to the ambassador, it was his first visit to Abkhazia in this role, and during the meetings he focused on finding out information. "It is always better to see once than to hear ten times. From this point of view I am rally satisfied," said Ambassador Jestrab.
"I also tried to meet ordinary people, as well as representatives of civil society in order to get a better picture of the situation in Abkhazia so it is as clear as possible," he said.
"I visited Abkhazia not only as an Ambassador of the Czech Republic, but also as an Ambassador of an EU member country. As you know, the EU has a clear position on Georgia concerning the South Caucasus and concerning Abkhazia. These positions are our common positions, which I focused on very clearly during all my meetings. These positions are the common positions of the European Union and this represents a red line for us. I was also ready to listen to the standpoints of information," he said.
The Czech Ambassador reaffirmed his support of Georgian territorial integrity and sovereignty, and expressed hope that the relationships of breakaway Abkhazia and Georgia will improve.
The Czech Republic delegation headed by Ambassador Jestrab paid a four-day visit to Sokhumi.