EU, UNDP Continue Assistance to Electoral Processes in Georgia
Tuesday, June 26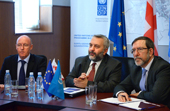 With the national parliamentary elections ahead, the European Union and the United Nations Development Programme (UNDP) are launching a new initiative to promote credible and sustainable electoral institutions in Georgia.
The programme was officially launched on 25 June 2012, by Ambassador Philip Dimitrov, Head of the European Union Delegation to Georgia; Jamie McGoldrick, UNDP Resident Representative in Georgia; and Zurab Kharatishvili, Chairman of the Central Electoral Commission of Georgia.
Speaking in the Central Electoral Commission, Ambassador Dimitrov said: "The European Union sees tangible results of our decade-long assistance to the electoral processes in Georgia with the Electoral Administration and other national institutions becoming increasingly sustainable."
Over Euro 1 million programme is funded by the EU with 10 per cent contribution from UNDP and will be implemented in close cooperation with the Central Electoral Commission of Georgia and the national Centre of Electoral Systems Development, Reforms and Training.
"We will closely work with all electoral stakeholders, including the electoral administration, political parties, domestic observers, the media and voters. Special focus will be made on youth and vulnerable groups, including national minorities, the displaced people and women," said Head of UNDP in Georgia Jamie McGoldrick.
The 2-year programme focuses on the three major components of credible elections: qualified electoral administration and other electoral stakeholders, broad understanding of electoral legislation and well-informed voters.