Abkhaz leaders discuss diplomacy with a more "pragmatic" Georgia
By Ernest Petrosyan
Tuesday, June 26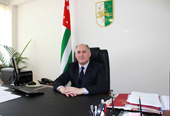 The de-facto Abkhazian leadership has revealed some signs of readiness for dialogue with Tbilisi. Breakaway Abkhazian de-facto Foreign Minister Vyacheslav Chirikba in an interview with the Italian journal Limes, said that Sokhumi wants to have "more pragmatic" negotiators in Tbilisi. Names mentioned included Bidzina Ivanishvili, the leader of Georgian Dream coalition, and Irakli Alasania, the leader of Free Democrats.
"We are open for dialogue. I am sure that in a circumstance where there is a different president other than Mikheil Saakashvili, Georgia would have also been a different country and we would have every opportunity to come to an agreement," Chirikba said.
"We need to have a more pragmatic interlocutor like Irakli Alasania or oligarch Bidzina Ivanishvili for example– someone who has just entered into politics. Ivanishvili is a businessman and is perhaps pragmatic enough to understand what kind of solution would be beneficial for everyone," added Chirikba.
Responding to Chirikba's statement, Georgian Dream spokesperson Maya Panjikidze, said that the "dialogue with [our] Abkhazian and Ossetian brothers will eventually take place. However, the final goal of the dialogue will be the restoration of Georgia's territorial integrity and sovereignty.
Panjikidze noted that the current government does not have the resources to restore the confidence with the residents of Abkhazia and Tskhinvali region, whereas the new government will have all the needed resources to transform the conflict on a more benign stage.
"Georgia will never accept the loss of the occupied territories, and it is our political starting point. Therefore, I do not know what expectations the de-facto leadership has, but the dialogue with the Abkhaz and Ossetian brothers will take place, and will envisage the restoration of our territorial integrity and the maintenance of our sovereignty," said Panjikidze.
According to her, the Georgian Dream has a specific plan on how to conduct dialogue between the parties of the conflicts. "No one can promise that these problems will be resolved soon, but we plan to hold direct dialogue which we will apply from October," said Panjikidze.
It is not the first statement made by the de-facto authorities expressing the will to negotiate with Irakli Alasania. The Abkhaz leadership hailed Alasania's appointment as Tbilisi's negotiator for Abkhaz issues in the capacity of President Saakashvilis aid in 2006. Later on, Alasania was appointed as Georgia's Ambassador at United Nations.
MP Nugzar Tsiklauri said that Chirikba should have clarified what the pragmatic forces are. "All we want is the Russian military forces to de-occupy Abkhazia on this stage," said Tsiklauri, adding that in accordance to the reintegration strategy, the Georgian government welcomes any kind of dialog with all Georgian citizens.
Tsiklauri said that it was not an accident that Chirikba implied pro-Russian forces under his statement on pragmatism. "He noted Ivanishili, who said that the Georgians started the war, and Alasania, who announced that the Georgian government is supporting paramilitary gangs. Chirikba is mistaken if his pragmatism implies that we will concede our positions in favor of Russian puppets. We will concede it on the basis of strategic interests– namely on the basis of internationally accepted territorial integrity and sovereignty," Tsiklauri told
The Messenger
.
Analyst Paata Zakareishvili hails the will of the Abkhazian de-facto leadership to begin negotiations. However, he noted that the Ivanishvili-led coalition should come to power first. "They [Abkhazian officials] know Alasania will not be enough. Indeed they want to have pragmatic forces, and not Saakashvili, who failed in the negotiations and resorted to methods of force.
According to Zakareishvili, it is early to predict whether the Abkhazians can sacrifice their so-called independence and return to the path of reintegration, as it might need a decade for this. "If they are ready to sacrifice their independence to the Russian Federation, in light of the Russian ruble in Abkhazia, the ongoing Russian military presence and Russian citizenship, why can it not be Georgian? We need to offer another Georgia first; a Georgia which will be better than Russia, and afterwards we can talk about the rest.