International Business Studies Networking
Tuesday, June 26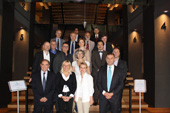 Caucasus University hosted an annual meeting of the Network of International Business and Economic Schools (NIBES) on June 20-22 at the Holiday Inn, Tbilisi. In the framework of the meeting, about 15 deans of business and economic schools shared and introduced their experiences and future plans. NIBES is an association permits only one university representing one country to become a member. Caucasus University became a member of NIBES in 2007, during the 11th annual meeting at Hiroshima, Japan. The main aim of NIBES is the support of students and faculty members, exchange and research projects and joint academic programs between various member institutions.
NIBES brings together 22 members from throughout the world. Among them are: the Klermon Business School, Pforzheim University, Hiroshima University, Krakow University and Brigham Young University.
"We have already agreed that there will be more exchange programs with Asia, the United States and European states including Germany, England, Portugal and Holland. I am sure those exchange programs will bring much benefit to the state and students," President of Caucasus University Kakha Shengelia remarked.
MichaelBryant, Dean of International Development at the Clermont Graduate School of Management said: "This is a great opportunity for faculty and members of our network to discover higher education in Georgia and I think that when we go back home we will be able to better promote business education in Georgia."
"We are looking at how we can address some issues like quality and agree on some of the objectives. We have put a networking team together, we are also developing double degree programs, we've been doing this for a number of years, we are also looking at how we can cooperate a little bit more on accreditation."
The sponsor of the NIBES meeting was Teliani Valley.