Saakashvili addresses foreign delegations at BSEC Summit in Istanbul
By Ernest Petrosyan
Thursday, June 28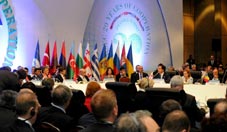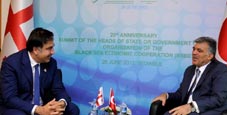 The Black Sea Economic Cooperation Organization (BSEC) celebrated its 20th anniversary followed by anniversary summit in Istanbul on June 26. The anniversary summit celebration was co-chaired by Turkey and Serbia. The Georgian delegation headed by President Mikheil Saakashvili, along with the delegations from 12 countries, participated in the summit. During the summit President Saakashvili addressed the audience.
"The BSEC should become a permanent bridge that links governments and businesses. We should define [our] common fields of interests and set aims, which will increase investment inflow in our countries and will promote economic development," remarked Saakashvili.
In his remarks the Georgian president noted that Georgia has excellent relations with all counties except one (implying the Russian Federation).
"I would like to remind you that we supported Russia's accession into the World Trade Organization. We also unilaterally set a visa-free regime for Russian citizens. This was an important message aimed at Russian citizens. Georgia is not a hostile country. The fact that Georgia is exporting electricity to Russia is also noteworthy, and when Russian Federation withdraws its troops from our territory, and it will definitely happen, the relationship between our countries will soon normalize," said Saakashvili, and added that it will happen much sooner than anyone can imagine.
Taking about the BSEC, Saakashvili hailed the organization– which he noted supports European aspirations. "I am convinced that today's 20th Anniversary Summit will become a new page in the organization's activity," concluded Saakashvili.
Prior to the summit, President Saakashvili held a meeting with his Turkish counterpart Abdula Gul. As presidential administration reports, the sides discussed bilateral relations, as well as Turkey's support in the NATO integration process. President Saakashvili also held a bilateral meeting with the President of Moldova, Nikolae Timofte and the First Vice PM of Ukraine, Valeri Khoroshkovski.
After 20 years of existence, most political analysts in Georgia believe that the organization has not justified their once great expectations, and doubt the capability of BSEC. Among the skeptics is political analyst Soso Tsintsadze. He opines that the BSEC has turned out to be more of a competitive organization.
Irakli Menagharishvili, former Georgian Foreign Minister, thinks that the situation within the organization is not ideal for effective cooperation, as the conflict between both member states [Russia and Georgia] essentially limits cooperation.