Public reception is now operational at Ksani penitentiary
Thursday, June 28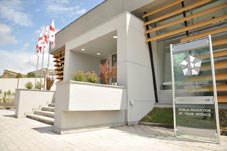 Minister of Corrections and Legal Assistance of Georgia (MCLA), Khatuna Kalmakhelidze, opened another public reception at the Ksani penitentiary establishment.
The MCLA introduced this reform in order to ensure easy communication, simple procedures and easier access to information for family members of inmates and other interested people.
Simplified procedures have been introduced for visitors to receive comprehensive and customer-oriented service in a comfortable environment.
Qualified personnel have undergone a special training program to serve citizens and will offer them rapid, comprehensive and customer-oriented services. The new public reception offers the following services: prior registration for meeting with inmates, registration for arranged meetings, and availability of all necessary information and submission of an application.
Additionally, bank service, free Internet connection, children's corner and an informational desk are also envisaged.
The first public reception was opened at penitentiary #8 and #18 in Gldani. Others will be gradually become operational at the rest of the penitentiary establishments.