Tourism figures continue to rise in Georgia
By Ernest Petrosyan
Tuesday, July 3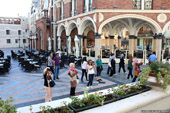 The United Nations' World Tourism Organization published a report on Tourism Highlights 2012, which revealed the growing trend of tourism in the world. It indicates a significant increase in the inflow of tourists to Georgia, which is up by 39% in 2011 compared with 2010.
The growing trend of tourism in Georgia is also proved by Georgia's Internal Ministry's statistic data on foreign visitors entering the Georgian state border. According to MIA data, as of June 2012, about 390, 808 visitors traveled to Georgia which tops the number of visitors by 72% for the same period of 2011 and substantially exceeds the most active period (August) of the past year. As for the first six-months of the current year, the country has already been visited by 1.6 million people and in the same period there has been documented a 53% increase in the number of visitors.
In the first six months of 2012, it has become a tradition that the majority of visitors entering Georgia were from neighboring countries, among them Turkey (145%) and Ukraine (56%) should be highlighted for the growing number of visitors not only in comparison with the results of last year during the same period, but also compared with results of the previous month (14% and 41% respectively). The number of visitors has also increased from the Russian Federation (100%), Armenia (35%), Azerbaijan (32%) and Iran (68%). Substantial growth in the number of travelers is also observed from EU states and even topped the results of Ukraine and Iran. Citizens of Poland, Moldova and Austria have also been active with 46%, 40% and 63% respectively
What attracts tourists to Georgia, and who is entering the country? Tourist inflow from the Russian Federation according to MIA, has increased considerably after Georgia lifted the visa regime for Russian citizens. This tendency is still preserved and can be proven by comparing the current results (100% growth) against the same period of 2011. In June 2012, the index of the average monthly growth has increased from 85% to 89% as a result of imposing a visa-free regime for the citizens of the Russian Federation.
The majority of tourists also find Georgian cuisine and nature very attractive. Many of them prefer to visit Georgia's vast mountain regions for camping and rafting. A significant number of tourists are interested in wine tours.
Nonetheless, tourism in Georgia is blooming and year-by-year the number of foreign visitors is rapidly growing. However, the above-mentioned figures must be taken with a grain of salt, as they do not provide a completely clear picture of the number of tourists in Georgia. Taking into consideration that Georgia is a transit country, many foreign visitors can be assessed as transit visitors. Such transit visitors, for instance, are cargo, truck and bus drivers from Armenia, Azerbaijan, the Russian Federation and Turkey.