Georgia's latest cabinet reshuffle offers many plots and twists for political pundits
By Ernest Petrosyan
Wednesday, July 4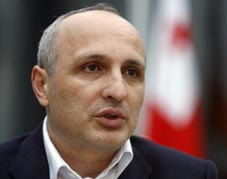 PM-to-be, Vano Merabishvili, announced the reshuffled minister's cabinet on July 3. Defense Minister Bacho Akhalaia has become Merabishvili's successor on the post of Internal Minister, whereas education minister Dimitri Shashkin will replace Akhalaia on the post of Defense Minister.
Khatia Dekanoidze, already the former rector of the police academy and who recently assumed the post that put her in charge of the nationwide university exams a month ago after a controversial dismissal of the center's former head, will replace Shashkin as the new education minister.
Dali Khomeriki, who has served in the Tbilisi-based exiled Abkhaz government as an education minister, will replace IDP Minister Koba Subeliani, whose dismissal has frequently been demanded by parliamentary and non-parliamentary opposition. So far there is no information about Subeliani's further activity. However, he said that he will get involved in the United National Movement's pre-election campaign.
The reshuffle also envisages the introduction of a new post – Minister for Employment, which will be held by Paata Trapaidze, the now former CEO of Caucasus Road Project Ltd
Both the reshuffled cabinet, as well as the new program has been submitted to the parliament for approval on July 3.
The oppositional political spectrum remains critical of the recent reshuffle, naming Akhalaia's appointment the 'government's combat team leader'.
"What confidence can we talk about? MP Merabishvili, leaving the probation minister Khatuna Kalmakhelidze, proves that prisons remain very reliable institutions for taking prisoners' votes. Prisoners have been and will remain hostages under Kalmakhelidze, which will be used by Merabishvili," said MP Lortkipanidze.
As for Akhalaia and Shashkin, Lortkipanidze said that authorities introduced a combat team, not intending to concede anything, even using the way of violating people's fundamental rights.
"Akhalaia is not a new face in the government. He has been moved from one law-enforcement structure to another. There was talk that a woman might head the MIA. However, I did not expect that, as during the pre-election period, the MIA plays a role that should be lead by a man, according to the United National Movement. So Saakashvili as well as the UNM do not want to humanize their policy," said CDM Leader Giorgi Targamadze.
The Christian Democrats hail the dismissal of IDP Minister Subeliani, meanwhile criticizing other outcomes of the reshuffle. Levan Vepkhvadze said that by dismissing Subeliani, the authorities recognized that the CDM were right. "The government will maintain its orientation, as the same people are simply just appointed to new positions," Vepkhadze said.
"I indeed I do not like to see Akhalaia as MIA head, as I expected a more balanced and "democratic" person. It is a clear signal that the MIA will continue its forceful policy," said New Rights' Leader Davit Gamkrelidze, adding that minister Shashkin is very disciplined and fit the defense minister's post better.
Many in Georgia think it is too early to make such far-reaching conclusions, arguing that Merabishvili's appointment as PM may mean that he has actually been sidelined from the powerful Interior Ministry, which has become a backbone of the system.
Political analyst Ramaz Sakvarelidze opines that Akhalaia's appointment to the post of Internal Minister means that President Saakasvhili needs a reliable person in Georgia's law enforcement structures. According to him, appointing Merabishvili as a PM in fact means he has stepped down, as he looses control of law enforcement structures to a member of Saakashvili's group.
"Bacho Akhalaia's appointment to MIA Minister means that Merabishvili will lose influence over law enforcement structures, conceding the power to Akhalaia, who is a more reliable person for Saakashvili. Akhalaia was appointed as defense minister when Saakashvili had a problem of confidence in the system. Likewise, he now has problems with law enforcement structures," said Sakvarelidze.
Furthermore, continued Sakvarelidze, "Akhalaia's new role will trigger protests among MIA employees, as they loved Merabishvili– the same cannot be said about Akhalaia's staff. Akhalaia, unlike Merabishvili, is more direct and brutal, which is disliked by MIA staff," said Sakvarelidze, adding that Merabisvhili's replacement with Akhalaia is not pragmatic in terms of pre-election PR.
As for the new Education Minister, Khatia Dekanoidze, analyst opined that she will be more human in comparison to Shashkin, and she will take into consideration the protest issues in the education system.