Maestro TV reveals its hopes for future expansion into Georgia's regions
By Salome Modebadze
Wednesday, July 4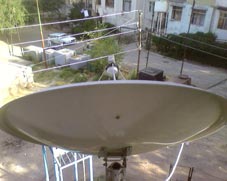 Maestro TV began its distribution of satellite dishes in the regions under the slogan "Maestro in every family." Aimed at increasing their coverage area all around the country, the company delivered the first satellite to a family in Saguramo on July 3.
Talking about how Maestro TV is the most viewed channel in Tbilisi, Ilia Kikabidze, Maestro's General Director, said this promo campaign would make Maestro available to the regional audience. "We definitely welcome the introduction of Must Carry principles on the legislative level, but the election period is not enough for us. We will go to the regions and mortage satellite dishes according to people's will," Kikabidze said.
Speaking on behalf of the high public interest in his company lately, he said any company working in the TV sphere needs a wider coverage area for increasing their advertising market.
Founders of Maestro– Maka Asatiani, Mamuka Glonti, Giorgi Ebralidze, Levan Chikvaidze and Eka Akobia, said in a written statement that from September, Maestro will start its new season with renovations. They said by operating all over the country, Maestro will become an attractive signal for many advertisers. The founders hope that the increase in the TV coverage area will become an important factor for the successful development of their company.
Maestro's technical facilities will be bought using the company's financial resources. Ilia Kikabidze says that the cost of dishes will be "symbolic" while the satellites would catch the signals of almost every Georgian company, including the Ninth Channel owned by Georgian Dream leader, Bidzina Ivanishvili's wife.
Editor-in-chief of
Rezonansi
newspaper, Lasha Tugushi, participated in Maestro's campaign and distributed the first satellite, welcoming the fact that Maestro TV would now "bring its signal" to a much wider audience. Calling it important "media support" Tugushi said that people in the regions were eager to have diverse information, especially during the election period.
Media analyst Ia Antadze stressed the necessity of distributing satellite antennas in regions for "developing the society," but she supposed that this would irritate the government. "Unfortunately Must Carry doesn't reach the villages, while the [satellite] dishes can reach everywhere. That's why it will be a serious slash for the government," she said.
Antadze wondered how the ruling United National Movement (UNM) would allow Maestro TV to fulfil their plan, but she could not imagine them sequestering Maestro TV. Considering "the algorithm" which the government has been following the last several years, she supposed that the government would do everything to hinder the process.
But the Georgian National Communication Commission (GNCC) spokesperson Khatia Kurashvili said Maestro TV has a legal right to distribute its satellite dishes even without any charge, and explained that any open signal of the satellite broadcasters can be automatically aired through its dishes.