Georgia's active military criticized by Russian Foreign Ministry
By Ernest Petrosyan
Monday, July 9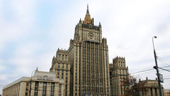 The Russian Foreign Ministry commented on President Saakashvili's recent remarks on July 5, accusing the Georgian leadership of being interested in a lasting Afghan operation, tying it again with possible revenge intentions.
President Saakashvili, while addressing graduates of Cadets military Lyceum in Kutaisi on July 1, said: "Those who want to understand why we are involved in Afghanistan, should understand that if we want to have our country, we should have a strong army, and if we want to have a strong army we should be on an active front" [implying participation in combat operations in Afghanistan].
It was not the first time President Saakashvili talked of the importance of the participation of Georgian troops in international operations in terms of important combat experience. He made exactly the same statement a number of times previously, including in September, 2011and then again in February, 2012 when visiting Georgian troops in Afghanistan
Russian Foreign Ministry's spokesman, Alexander Lukashevich, said in a statement that Saakashvili's speech in Kutaisi implies that the longer the Afghan war lasts, the more training opportunities the Georgian army will have.
Russian officials again related the strength of the Georgian Army to a possible revanchist mood in the Georgian government.
"It turns out, that Georgia participates and increases the number of its soldiers in Afghanistan not for combating terrorism or for the purpose of supporting international security, as envisaged by the mandate of the International Security Assistance Force," read Lukashevich's statement.
"Furthermore, Saakashvili's words imply that the longer 'the active combat' lasts in Afghanistan, the better for Georgia, which will then have an appropriate training range for the combat training of its army."
Putting aside the moral aspects, Lukashevich noted that that the above mentioned remarks unambiguously confirm that Tbilisi maintains a militant revanchist stance, which is posing a real threat to peace and stability in the Trans-Caucasus. "It is no accident that the Georgian side insistently shuns away from signing binding non-use of force agreements with Abkhazia and South Ossetia," said Lukashevich.
"We consider, that those who praise'Tbilisi's contribution in providing security in Afghanistan' and those who under a seemingly well-intentioned pretext support this cause, provide quite strong assistance in the build-up of Georgia's military potential. [They] should pay attention to Saakashvili's candid articulation of his genuine motives," the Russian Foreign Ministry said, indirectly blaming officials who hail Georgia's increased involvement in the ISAF mission.