Current regime still without an answer to opposition campaign
By Gvantsa Gabekhadze
Monday, July 9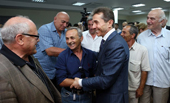 Bidzina Ivanishvili, leader of the Georgian Dream coalition, met with several Georgian athletes on July 6. The billionaire spoke about the upcoming elections and the coalition's plans within the framework of the parliamentary elections. The various athletes he spoke to expressed trust and support towards the coalition.
Ivanishvili outlined at the beginning of the meeting that the support of Georgia's athletes within the sports community is very important to him.
He emphasized the fact that the Georgian Dream coalition aims to radically change the situation in Georgia and requires the support of all Georgian citizens to help make this a reality.
"The only problematic regions are Akhalkalaki and Tsalka, where people are afraid to show their support. However, it is temporary and we will be able to change the situation in those regions as well, we have a concrete plan on how to do this," Ivanishvili stated.
The coalition leader also reiterated that the National Movement has no chance in the elections. "However they might respond by doing something which might damage the people and this is the only issue we are afraid of," Ivanishvili, stated.
For ruling party representatives, Ivanishvili's actions are useless, as they believe that he will be defeated by the current ruling team. Several representatives of the ruling party even call Ivanishvili a "criminal" and accuse the oppositional figure of using various means to bribe people.
Answering the question as to why the initiatives put forth by the newly appointed Prime Minister, Vano Merabishvili, look so much like the Georgian Dream's initiatives, Merabishvili responded by stating the ruling party has its own approaches based on people's demands and that he had not seen the initiatives of the other parties. As for the Georgian Dream's question that asks why the current regime has not satisfactorily addressed the various problematic issues until now, Merabishvili answered that only now, has the ruling administration managed to create a base for solving the country's many problems. "Over the last those 8 years, we have been working hard to create the appropriate conditions and financial base necessary for solving them," Merabishvili, stated.
Analyst Irakli Melashvili pointed out that the authorities do not have any tactics solidified in response to Bidzina Ivanishvili's campaign.
"It is possible that the repressive measures taken against Ivanishvili will be increased. However, it is also obvious that staying on the current course would be difficult for the ruling administration. On the other hand, it is not in the government's interest for Ivanishvili to participate in the elections. However, the launching of street rallies might be non-beneficial for the government. Formerly, it was easy for the government to defeat the opposition in the street, but recently situation is different,"Melashvili stated.