Merabishvili confident UNM measures that address key problems will be a success
By Salome Modebadze
Monday, July 9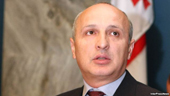 Prime Minister Vano Merabishvili denied "plagiarizing" the programs of any political party. On Special Reportage aired on Imedi TV on July 7, Merabishvili explained that the ruling United National Movement (UNM) has been following the same path as before. He said the government wants to make everyone feel the achievements of the country within their own families.
The priorities of the new four-year action plan– More Benefit to People, presented by Merabishvili, shares similarities with Bidzina Ivanishvili's Georgian Dream political coalition and has caused controversy among the oppositionists. "It is more important what people think," PM Merabishvili said, adding he has never compared his action plan with any other party.
He said the state has the recourse to fulfill every promise. Merabishvili foresaw that the state budget would be enough for everything. Confident that the resources would increase and contribute to the development of other infrastructure projects, the PM felt optimistic in the everyday struggle against unemployment, as well as the accessibility to healthcare for everybody.
The state will serve as the bridge between employer and employee, PM Merabishvili said, while promising that every person would have a chance to improve their qualification or obtain the skills they need for success. "The criteria for estimating each single investment would be the number of people employed," he said.
To understand the full unemployment picture in the country, the government plans to create a database of job-seekers with detailed information about their professional achievements and experiences to help them find jobs.
The state database worked out by the newly-established Ministry of Employment would make it easier to define which group of people needs more social assistance in finding a suitable job relative to their experience.
Referring to the level of poverty in the country, the PM said every family would receive a voucher for GEL 1,000, which they could use according to their needs. Increased pensions and the distribution of healthcare insurance for pensioners and pre-school children, still remain part of the state's policy.
The Christian-Democratic Movement (CDM) believes that Merabishvili will stay at the post of Prime Minister in a case where the UNM wins in the fall parliamentary elections. But Merabishvili says it is up to the president and the winning party to decide this.
Talking about the importance of having vertical coordination within the ministries, Merabishvili said he would make the ministries more transparent, and vowed that the government sessions would be short resulting in rapid decisions with better results.
Integration to NATO and European community remains the main foreign priority as the guarantee for Georgia's territorial integrity. Merabishvili said the state will not stop protecting its people and continue its non-recognition policy of the breakaway territories and never change its principles. He also expressed confidence the path defined years ago to achieve political, military and economic integration with its Western partners will pay dividends in the near future.