High officials stress fair elections at European conference
By Ernest Petrosyan
Thursday, July 12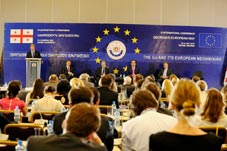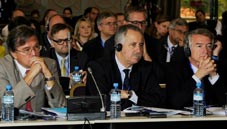 Europe is not a pragmatic choice for us… in fact Europe is an appealing choice for us, as we have no other option, President Mikheil Saakashvili said in his opening remarks at the international conference entitled
The European Way of Georgia– the European Union and its European Neighbors
, which opened in Batumi on July 10.
Saakashvili recalled his 2004 inauguration ceremony, claiming that many accepted the EU flag and anthem at the inauguration ceremony as a sign that "we [Georgians] are not serious people." According to him, a lot of things have since changed, but the idea that Georgia should become a modern European country remained engrained in the Georgian mentality and psyche.
He noted the international recognition of the implemented reforms, as well as the survey reports of the EU, according to which Georgia has become one of the least criminal and least corrupt states.
"The Eastern Partnership is a wonderful idea, as after the 2008 August War, many were surprised that we were still on the map. We were all CIS members and some of them still remain a member of the organization. Everyone agrees that the CIS doesn't offer a normal form of discussion to the states. That's why we don't regret this and other states want to be involved with the Eastern Partnership. We didn't believe that by 2014 we would have a simplified visa regime. This year we can have a visa-free regime with the EU, as well as a deep and comprehensive trade agreement. The European perspective will open for us on Vilnius summit," Saakashvili said.
The conference hosted high officials of the eastern European region, as well as the EU member states, including EU Commissioner for the Enlargement and European Neighborhood Policy, Stefan Fule; European People's Party President, Wilfred Martens; Prime Minister of the Republic of Moldova, Vladimir Filat; representatives of European executive and legislative governments and NGOs.
"October's elections must be free, fair and we must avoid a polarized policy," Fule remarked at the conference, noting that October's parliamentary election is a challenge for the government and the opposition. He also noted that the rule of law, human rights and fundamental freedoms must be protected during the elections
Fule also positively assessed the new MUST CARRY regulations. "We believe the leaders will protect the achieved reforms. I cannot imagine another attitude towards reforms. It is undoubted that tangible progress has been achieved and I think progress should be interminable," Stefan Fule said.
According to him, the EU will grant Georgia 22 million EUR in financial support.
"I am very pleased to announce that the EU has decided to allocate additional financial support for European integration and cooperation programs in 2012. We thereby want to strengthen our support for the legal system," said Stefan Fule.
He added that reforms in the legal systems are very important for the EU.
"In our last report, we noted the importance of legal reform in Georgia. Eastern European partners have a very ambitious project, but it is also flexible and can be adapted and tailored to your specific needs," said Stefan Fule.
Prior to the conference, Stefan Fule held meetings with the Georgian opposition, also holding a face-to-face meeting with Bidzina Ivanishvili.
"I have met a very interesting person. By the way, I think I have come to politics by chance and I have to remain this way and go away this way. Wilfried Martens is captured by Saakashvili`s lies and falsehood. We are working on this and will continue in the future, and I think, we will introduce the real situation to him," said Ivanishvili.
"We can do it, and this is my great wish and we are seriously working on this. I have noticed that he uses the same words as Saakashvili does, like - "communists" and "communistic". He uses very often "the past" and "return the past", just like Saakashvili. I don`t want to respond to him", Ivanishvili said.
"Everything is clear, the closer Georgia approaches the EU, the stronger Georgia will become. However, the EU will accept Georgia if Georgia will prove that it is a democratic country," said Giorgi Rukhadze, Christian Democrats international secretary.