Ivanishvili and Merabishvili: Strange bedfellows?
By Gvantsa Gabekhadze
Thursday, July 12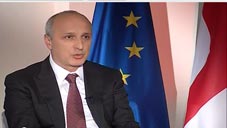 "I do not know Bidzina Ivanishvili as a political figure," said Prime Minister of Georgia, Vano Merabishvili during his interview with Maestro TV on July 10.
Unlike other representatives of the ruling party, Merabishvili's assessment of his party's chief rival can be looked at positively.
Ivanishvili's prior philanthropic and charitable contributions to Georgian society are not lost on Merabishvili, as he [Merabishvili] even "helped him in undertaking such actions."
Responding to the prospect of him remaining PM into the future, Merabishvili emphasized that he has already pieced together a four-year action plan. He noted however, that at the end of the day, it is the public that will determine whether the ruling team manages to embark on it or not. "If the Georgian public supports us in the elections, the action plan will be carried-out," Merabishvili said.
Merabishvili was also asked about several murders that have occurred in the country, including Sandro Girgvliani's well known murder that was linked to law enforcement officials. The prime minister reiterated that he takes responsibility for all incidents occurring while he is in office. He also underscored the fact that many difficult decisions had been made regarding police restructuring in order for it be as trustworthy and reliable as it is now.
Unlike Merabishvili, other representatives of the ruling party believe Ivanishvili and his political team to be a serious political opponent.
"It has already become obvious that the Georgian Dream coalition will be the second largest political party," MP, Goka Gabashvili admitted.
Despite the fact that many members of the ruling party continue to view the Georgian Dream as a Russian-oriented political entity, Gabashvili provided reassurance that the National Movement will be open to collaboration with the Georgian Dream after the elections.
According to Republican Party member and Georgian Dream coalition representative, Levan Berdzenishvili, Vano Merabishvili's assessment of Ivanishvili as a philanthropist and not a politician is nonsense, as it ignores the existence of several large-scaled rallies Ivanishvili has held in various Georgian regions. "Thousands of people attended those rallies to support him as a politician– not as a philanthropist," Berdzenishvili countered, dismissing Merabishvili's interview statements as weak.
However, Berdzenishvili drew some distinctions between Merabishvili and current Minister of the Interior Bacho Akhalaia, referring to the latter as a "maniac" and characterizing Merabishvili as a "thinker."
As for the scenario voiced by Gabashvili, the coalition has a different ending in mind– meaning that the coming to power of the coalition will coincide with the punishment of those officials who have committed crimes while being in office.
According to Head of the Elections and Political Technologies Research Centre, Kakha Kakhishvili, even those people who express negative attitudes towards the current Georgian leadership respect Merabishvili for his good managerial skills. "In fact, the government put all the levers in motion, including the blocking of Ivanishvili's finances. It will be interesting to see how the opposition will respond… what plan do they have? As a rule, the opposition should have thought about such a scenario much earlier and should have adopted an adequate response plan," Kakhishvili said.
Analyst Ramaz Sakvarelidze points out that through the statements made by both Merabishvili and Ivanishvili, the two could potentially have close relations. Thus it is highly-likely that Saakashvili's decision to appoint Merabishvili as prime minister was made for fear that Merabishvili might leave the National Movement.