Minister of Employment reveals six-point plan to combat unemployment
By Salome Modebadze
Thursday, July 12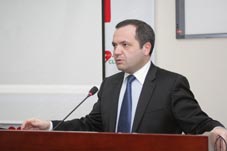 The Georgian government has developed a six-point action plan to fight the unemployment problem in the country. Minister of Labour, Health and Social Affairs, Zurab Tchiaberashvili, said at the government session on July 10, that the state would assist each and every family to acquire new skills or improve their professional qualification.
Employment is among the main priorities of the government action plan entitled
More Benefit to People
. The Social Service Agency (SSA) of the Ministry of Health will conduct a ten-day training course for 3, 000 employment agents who will register job-seekers all around the country from July 25. The potential employees will fill-out a special questionnaire about their general background, which will be added to the unified database of job-seekers.
Unemployed people above 14 or those who are currently employed but want either to improve their qualifications or experience a new profession can fill-out the social questionnaire about their professional skills and experiences; even the pensioners who consider themselves capable of working can participate.
The six-point plan for employment also considers an introduction of the legal status of unemployment. Minister of Employment, Paata Trapaidze, said that qualifications, organizational skills and responsibility are the main qualities for a good employee. When the creation of the employees' list is completed, the newly created State Ministry will test the unemployed to help define the type of training they need. Trapaidze said those who would undergo the training "will definitely be employed."
"We will create the shortest bridge between the employee and employer," Trapaidze said and promised to break the myth that only people with "patrons" are being employed in Georgia.
The new Ministry plans to coordinate with the private entrepreneurs as well. Meeting with Minister Trapaidze, Lekso Khubulava, founder of jobs.ge found the Minister quite favorable towards private business and considered finding the intersection between the private and state sector against unemployment.
Over GEL 1 million is supposed to be allocated for the Ministry of Employment to carry out the defined program. Economic expert Giorgi Abashishvili said that Georgia makes important economic reforms and new jobs are created so fast that the labour force should be organized properly.
But analyst Tengiz Shergilashvili doubted that the creation of employee lists would be the best way to overcome the problem. He said in most countries there are private institutions which register unemployed people and provide vacancies leads. Shergilashvili spoke of the failure of the current government's economic policy and called the new action plan "absurd" based on "mechanic calculations."
He wondered how 4 billion in investment can create 80 000 jobs when 7-8 billion in investment in recent years saw the level of unemployment almost double.