Cartu Group/Cartu Bank still navigating through political waters
By Ernest Petrosyan
Friday, July 13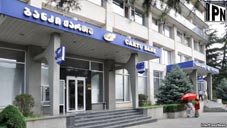 After the National Enforcement Bureau failed to auction 100% shares of "Cartu Group," and 21.7% of shares of another Tbilisi-based Progress Bank both seized by the authorities, the Enforcement Bureau contacted the Tbilisi City court with the request of transferring Cartu Bank of of Cartu Group under a forced management regime. The forced management regime envisages the appointment of a new manager, who will manage the operations and transfer the bank profit to the state budget, until the GEL 75 million fine is fully covered.
The court has indeed approved the request and the assets moved under the management of Vladimer Ugulava, a former chairman of the board of directors of a Georgian subsidiary of the Ukrainian Privat Banks. Prior, he held senior posts at the Anticorruption Bureau and also served as a member of the National Security Council of Georgia. He is a co-founder and the former president of the Tbilisi-based think-tank– Economic Policy Research Center.
Analysts, as well as Cartu Bank President, Nodar Jvakhisvhili, anticipated such a possibility that Cartu Group shares would not be sold. In this case, the assets should have been moved to state ownership. Neither option however was exercised. The State Audit Office applied to the National Bureau of Enforcement with the demand that the property is subject to compulsory execution control mode.
The Enforcement Bureau, in its July 11 statement, confirmed that the municipal court of appeals' Cartu group "will move under forced management," but the company will remain in the hands of current shareholders.
This decision however was unexpected for Cartu group foreign shareholders' lawyer Paata Kiknavelidze. In his words, he expected that the property would be transferred to state ownership. He opines that the solution will be useful for the company's 16 shareholders, because they have ownership of the property still. However, the dividends received by the Cartu Group will go to the budget.
Cartu Group and Cartu Bank President, Nodar Javakhishvili, says that how long the interim management will stay at company depends on the government. If the new manager in the bank is allowed to restore justice then the bank will be profitable, says Javakhishvili.
"With last year's October Cartu group, if nothing had happened and we had been given an opportunity to work normally, we would have had an annual profit of 18 million last year. Divide 75 million by approximately 18 million, a bit more and it will take about three-years if the government creates the perfect conditions.
Nodar Javakhishvili implies that Bidzina Ivanishvili's Cartu Group will cover the fine over three years. However, according to him, the regrettable thing is that the bank has to make payments for other people.